Review: Rotoworld Fantasy Baseball Guide 2013 Mobile App for iPhone and iPad
We continue our look at the 2013 collection of Fantasy Baseball draft apps with the Rotoworld Fantasy Baseball Draft Guide 2013 for iPhone and iPad. 
The Rotoworld Fantasy Baseball Draft Guide is one of the handful of apps that allow you to ditch the pen and paper and deliver everything you need for your live fantasy draft in one convenient mobile app. NOTE: Our review and the images below are from the iPad version of the app. (See download links below. )
There have been a few changes from previous seasons including the much needed ability to reset your draft and use it for multiple drafts rather than having to manually un-draft every player as was required in previous seasons. The way players are drafted and assigned to teams has changed along with a few minor changes to the layout.
Setup
Creating league custom scoring requires registering with an email and password. There is no confirmation process so you can just make up a phony email if you'd rather not give out your own.  You can select a Rotisserie style league or a straight points league and set your scoring accordingly. Rotisserie leagues support up to 20 different offensive categories and 19 pitching categories.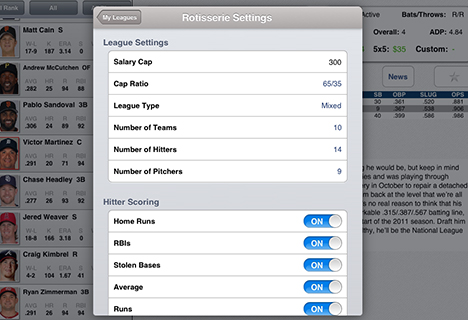 Drafting
Rotowire had made some changes in the process for 2013, but I'm not sure they necessarily represent an improvement. In last season's addition of the app, you would mark a player as selected by either assigning him to your team or set him as "drafted" indicating he was selected by another team. This year they've switched to a format that requires you to set up every team in your league before the draft and then assign each player to a specific team as they are drafted. Some may prefer this method, but keeping both options and having users select their preference woud have been better.
To view a players profile, which includes stats, projections, values, and 2013 outlook, select the player on the left and then hit the "profile" button. You "assign" a player to a team by selecting the "Assign" button either below the player listing on the left or on the profile page to the right. The "star" icon allows you to mark a player as a favorite.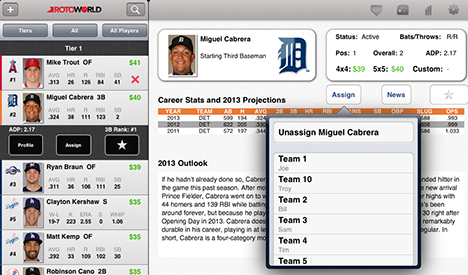 Other Features
A feed of the latest player news is available by selecting the news icon at the top right…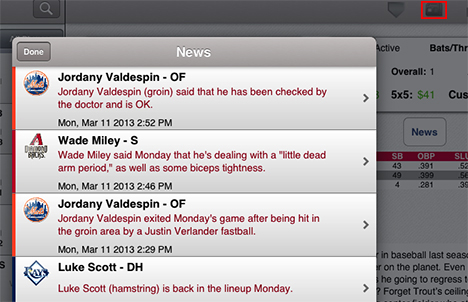 … and depth charts are available for every team.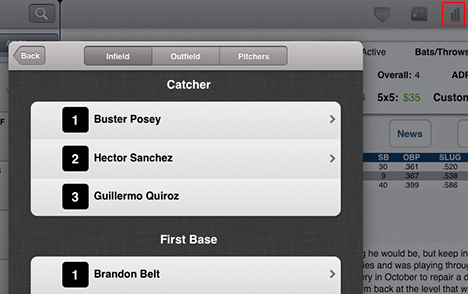 Overview
The Rotoworld Fantasy Baseball Draft Guide 2013 is a passible product that will allow you to ditch the paper and pick your team at your live draft. It's a visually appealing app with solid functionality that will do the job for most fantasy baseball drafts. It's also a universal app, so for one price you can use it on iPhone, iPod Touch, and iPad. The problem is the app isn't best of breed. It falls well short of the high standard set by the Rotowire Fantasy Baseball Draft Kit. If you a are big believer in Rotoworld and their fantasy advice, this app will probably suit your needs. If you want an app with far more features, customization options, and functionality, look to Rotowire.
Cost: $4.99
Download
iPhone: Rotoworld Fantasy Baseball Draft Guide 2013 – NBC Universal, Inc.
iPad: Rotoworld Fantasy Baseball Draft Guide 2013 – NBC Universal, Inc.




by