ESPN Fantasy Baseball '13 App for iPhone & Android
If you are playing in an ESPN Fantasy baseball league this year and want to make moves and track your score on the go you'll want to download the ESPN Fantasy Baseball app for iPhone or Android.
The app will allow you to manage teams in multiple ESPN fantasy leagues, track the score of your match-ups in real time, make player transactions and lineup changes while on the go. You can even post messages to the league message board from the app.
If you are an ESPN Insider you can also get personalized push notifications for your players, and exclusive news and content from ESPN Insiders.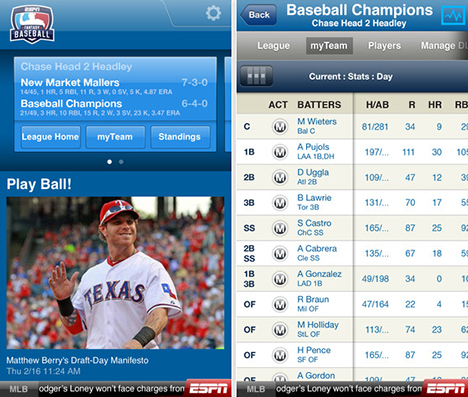 Cost: Free
Download
iPhone: ESPN Fantasy Baseball – ESPN
Android: ESPN Fantasy Baseball for Android from Google Play




by