Yahoo Fantasy Baseball 2013 App for iPhone and Android
For those fantasy baseballers in Yahoo leagues you'll want to grab the Yahoo Fantasy Baseball app for Android or iPhone to track your score and keep your lineup up to date while on the go. 
The Yahoo Fantasy Baseball gives you real-time fantasy score updates,team, league, and player stats, the ability to edit your lineups for today and upcoming days, add/drop players, get player news, and check your standings and check your matchups.
Yahoo took a sizable step forward last year with it's fantasy baseball app going from what was nothing more than a supplement to the browser version to a more full featured product that could stand on it's own as an alternative to the browser. The 2013 edition builds on that step forward and adds a few features.
Some of the new features are the ability to see real-time matchup scores on the home page, more roster data when scrolling and the ability to view the roster in landscape mode. Yahoo also claims major performance enhancements which should make the app faster and more responsive.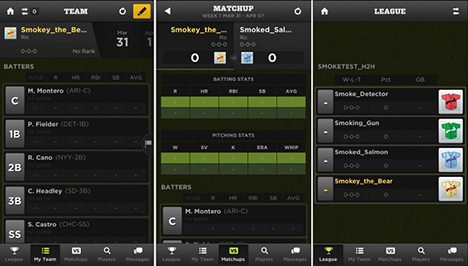 Overview
The Yahoo Fantasy Baseball app has matured over the years and can now be a factor when considering which web site to use to host your fantasy league. You won't be able to draft a team with the app, for that you'll need the Fantasy Baseball Draft '13 app, but you will be able to perform virtually all the day-to-day tasks to manage your team throughout the season.
Note: You'll have to have a league and a registered team before you can log in and use the app.
Cost: Free
Downloads
iPhone: Yahoo! Fantasy Baseball – Yahoo!
Android: Yahoo! Fantasy Baseball for Android from Google Play




by