SportsPage App for iOS Aggregates Your Preferred Sports News
Looking for an iOS app to deliver articles on topics you want to read? Check out SportsPage for your iPhone and iPad. 
The SportsPage app aims to customize your  sports reading experience by aggregating only articles and Twitter feeds from categories you want to read about.  And, they have plenty of categories from which to choose. Your chosen categories are displayed in a tiled form on the main page along with images and top headlines.
(Note: Screenshots are from the iPad version of the app)
You add content by selecting one of the (many) sports leagues and/or teams from the content menu and submenus. Select the My SportsPage option to remove or reorder any of the selections.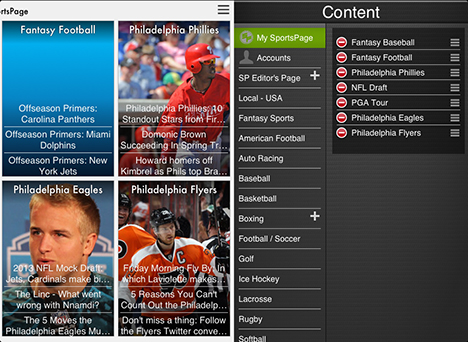 The actual "pages" of each subject are laid out similar to that of the MLB At Bat app with articles sectioned off just as you might find in an actual newspaper or sports magazine. The UI features flip style page turning is also reminiscent of an actual paper sports page and adds a very nice touch to the app.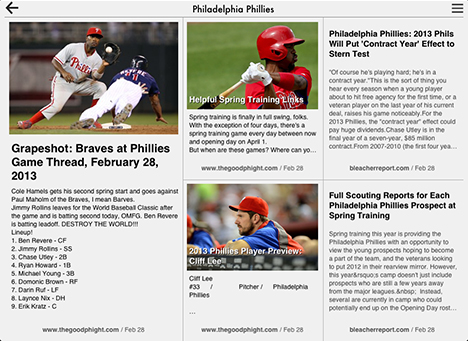 He's a brief promo video that gives you visual of the app layout and the page flipping.
Overview
The concept is a very good one with generally pretty solid execution. What we especially liked about Sports Page is the content isn't limited to just the major sports. Even if your favorite sports include Lacrosse, Rugby, or Water Polo, they've got you covered. It even includes feeds for Fantasy Football and Fantasy Baseball.
We did run into some issues with the the Local Sports section. The content was stuck in September 2012, and in at least one case, New York, we couldn't get the section to add to our sports page at all.  (UPDATE: The developer has fixed the issues with the local sections and the content is loading fine now. ) A few minor nitpicks we had were that some of the categories (like golf and the fantasy sports) displayed a blue background on the front page rather than an image, which wasn't terrible, it just wasn't as nice as having an image. Also, depending on the picture displayed, the white headline on the front page panels weren't always easy to read.
SportsPage is an app definitely worth checking out if you are looking for a mobile sports news aggregator for your iOS. There's a free version and a premium version ($0.99) that is ad free.
Cost: Free ad-supported version and a $0.99 Premium ad-free version
Downloads
Free
iPhone: SportsPage Free: Your Sports Magazine – SportsPage
iPad: SportsPage Free: Your Sports Magazine – SportsPage
Premium ($0.99) 
iPhone: SportsPage: Your Sports Magazine – SportsPage
iPad: SportsPage: Your Sports Magazine – SportsPage




by