Review: MLB At Bat '13 for iPhone, iPad, and Android
With each Spring, comes a new baseball season. And for the past five years, with each new baseball season comes the MLB At Bat mobile app. We take a look at the new MLB At Bat '13 for iPad, iPhone, and Android.
For those that have used the app in previous years, you'll notice the familiar layout and features. Some of the UI design has been gone through some minor tweaks, but nothing jarring. The app is free to download, but some of the features such as live game audio and additional video highlights and features will require an in-app upgrade.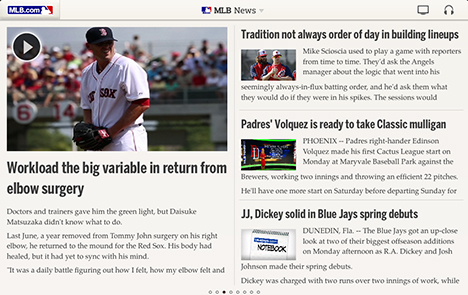 So, what's new in 2013? Well, MLB has tweaked it's subscriptions this year in a way that will probably irk many folks who only use a single mobile device. The price of MLB At Bat Premium has jumped to $19.99 for 2013 from $14.99 last year, but with that price bump comes universal cross platform subscriptions. So this year, if you've got an Android phone, and iPad, and a PC or Mac, you'll be able to listen to audio feeds of all live games, for the price of a single subscription. Last year, you would've needed to purchase the app for Android and iOS. For those with just one mobile device, however, this change will be nothing more than a price increase.
NOTE: If you subscribe to the premium edition of MLB.tv, you'll get the app and all it's premium features for free.
Perhaps the coolest part of the app is the Gameday feature. Gameday is available during all MLB games and displays a graphical representation of the actual MLB park with the batter displayed at home plate, pitch tracker,  optional overlays with box score lineup, play-by-play, and curent pitcher-batter matchup. It can make a nice compliment to the live audio, however, I've found in the past the audio can be a tad behind the Gameday visuals. The Live Game Audio is accesible from any screen in the app and is not subject to any blackouts.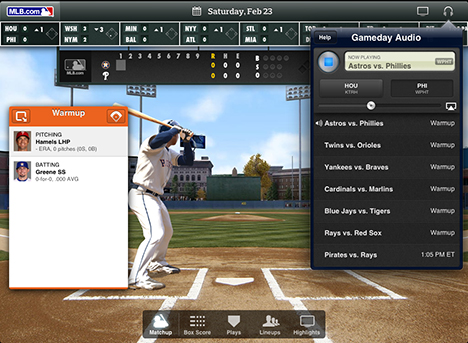 With a MLB.TV Premium subscription, you'll get all the out-of-market games during the regular season. (All pre-season games are available without blackout restriction) Before committing to MLB.tv, be very, very, very sure you understand the MLB blackout rules. Trust me, they can be ridiculous. Even if you think there is no way your favorite team could be blacked out, double check to be sure.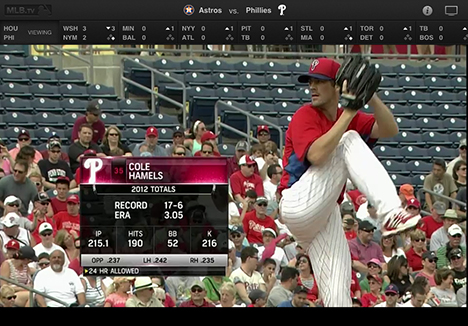 Overview
MLB At Bat has been one of the best sports apps available since it's initial release 5 years ago, and this year's version is no exception. The subscription price increase will no doubt rub many fans the wrong way (at least those with a single mobile device), but $19.99 for streaming audio of all games across all platforms isn't likely to scare away many fans.
MLB does seem to me to be subtly pushing fans towards investing in the "total package" by buying into the MLB.tv Premium subscription, which gives access to all the MLB At Bat app features, plus the ability to watch out-of-market games on all mobile platforms. However, without removing the current blackout policy for video, there will only be so many fans willing to pay such that premium price.
MLB is promising more features to be updated when the regular season starts at the beginning of April, so we'll be sure to keep an eye out for any interesting additions.
Download
iPhone: MLB.com At Bat from the App Store
iPad: MLB.com At Bat for iPad
Android: MLB At Bat for Android from Google Play




by