ESPN Bracket Bound 2013 College Basketball App for iPhone and iPad
As the college basketball season winds it way towards March Madness, ESPN releases it's 2013 addition of the Bracket Bound app for iPhone and iPad. 
You will be prompted to  sign in with an ESPN account when you first load the app, but you can choose to skip that process. Some features, however, will require logging in with your ESPN account.
The layout has received a bit of a refresh for 2013, but like last year, there's still tons of content like top stores, breaking news, scores, rankings, conference standings, video highlights, and information on every Division 1 team. You have the ability to set your favorite's as "My Teams" and have the scoreboards focus on those teams.
The "Home" screen gives you the latest stories from the world of college basketball. The iPad version will also display the scoreboard on the right. For the iPhone version, it's located on a separate screen accesible from the main menu. (Note: select "All Games" to see previous days' results.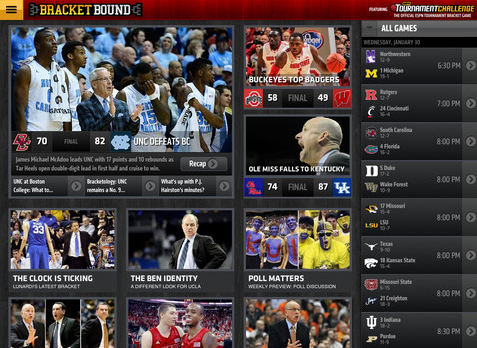 Each team page features upcoming schedule, latest news, videos, stat leaders, roster, and a Discussion section to interact with other fans (the discussion requires ESPN account log in). The one shortcoming I noticed (unless I'm just missing it somehow) is the there doesn't seem to be stats for the entire team, just the leaders.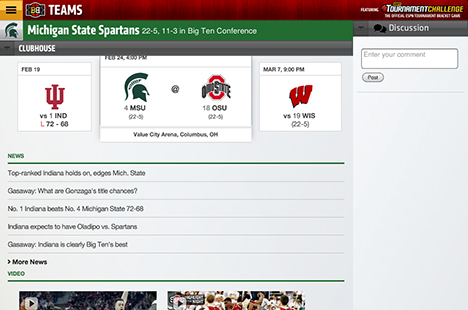 The app includes loads of video content, such as recent game highlights and other features. The only real downside is that the amount of commercial ad time in between each clip can try your patience, especially if you are watching more than a couple clips at a time. But this isn't really any different than the videos on ESPN's website.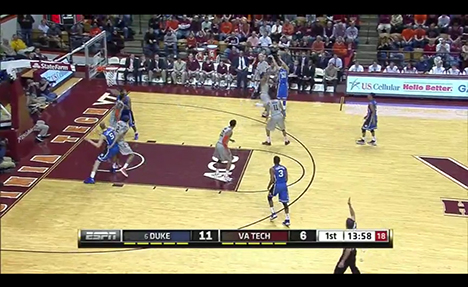 In the weeks leading up to the tournament, "who is in and who is out" is a major topic of discussion in the college hoops world. The Bracketology section gives you the latest predicted tournament field along with regional projections.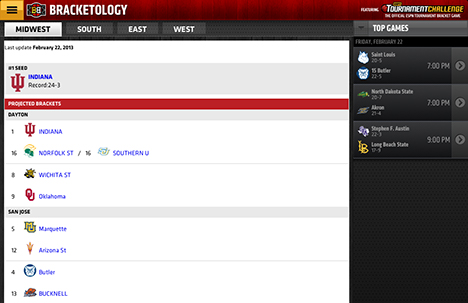 Overview
The app also includes ESPN's Tournament Challenge which will be available beginning March 17th. You can create up to 10 brackets and compete against friends, family and/or co-workers. It's hard to quibble too much with this app. It's got about as much college hoops coverage as you could want to go along with a pretty slick design. Any college basketball fan is going to want to have this app on their iPad, iPhone, or iPod Touch.
Cost: Free
Download
iPhone: ESPN Bracket Bound 2013 – ESPN
iPad: ESPN Bracket Bound 2013 – ESPN




by