Fantasy Baseball Draft '13 App for ESPN & Yahoo: Live & Mock Online Drafts on iPhone, iPad, or Android Devices
Are you looking for a way to participate in your online Yahoo or ESPN Fantasy Baseball draft without a computer? Check out the Fantasy Baseball Draft '13 app for iPhone, iPad, and Android from Bignoggins Productions. 
The main feature of the app is the ability to participating in those ESPN and Yahoo drafts via mobile devices. As long as you have a data connection, you won't miss your draft and have to suffer through the season with and "autopicked" team. If you've used this app for previous fantasy baseball drafts, you might be pleasantly surprised to find that the Fantasy Baseball Draft '13 App has added some additional functionality.  You can now do mock drafts, offline drafts, and even pre-rank your players.
Mock Drafts
Mock drafts can be a constructive part of any fantasy draft prep. The Fantasy Baseball Draft '13 App allows you to participate in a mock drafts with either ESPN or Yahoo. The app version doesn't have all the feature of the web application (such as autopick if you need to step away), but it's overall functionality is very sound.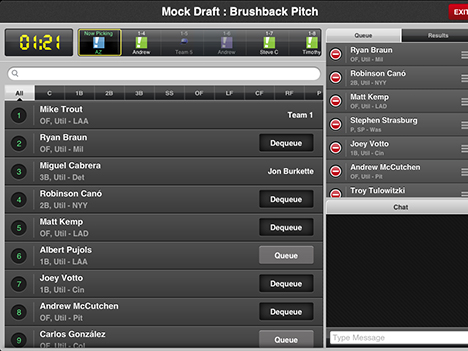 Customize Player Rankings
The pre/post draft section lets you re-order your rankings with a drop and drop UI.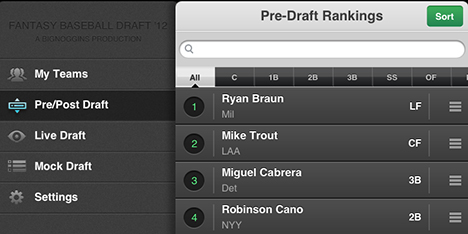 Offline Drafts
While you can use this app for live in-person drafts, that isn't where it excels. If that's is your top motivating factor for buying a fantasy baseball app, look at the Rotowire Fantasy Draft app, or the Rotoword draft app instead.
Overview
We'd suggest picking up Fantasy Baseball Draft '13 for it's mock and live Yahoo/ESPN draft functionality. Although, I do believe drafting from the browser-based web application is preferable, this app makes a nice alternative if you need to be mobile. Same goes for mock drafts. If you want to load up on the mock drafts while on the go, the mock draft feature alone might make the cost of the app worth your while. You may notice that NFL.com is listed as one of the available leagues. No, NFL.com did not start hosting baseball leagues… It's likely just a remnant left over from the fantasy football version of the app.
Cost: $2.99 for mobile, $4.99 for iPad/Tablet.
Downloads
iPhone: Fantasy Baseball Draft '13 for ESPN/Yahoo from the App Store
iPad: Fantasy Baseball Draft HD '13 for ESPN/Yahoo for the iPad
Android: Fantasy Baseball Draft '13 for Android from Google Play




by