NASCAR Race View Mobile '13 for iPhone & iPad
NASCAR has beefed up it's mobile offering in 2013.  One of it's new products, the NASCAR Mobile Race View Mobile '13 app, allows you to control how you follow every NASCAR Sprint Cup Series race on your iPhone or iPad. 
NASCAR Race View Mobile '13 is a designed to be a race day companion product. When there isn't a race in progress, the app doesn't display any content except for a schedule up upcoming races. You can download it for free and try it out for 3 minutes during the race, but a subscription will cost you $4.99 for a month of access or $39.99 for the entire NASCAR season.
I checked it out only for the the 3 minute trial period during The Sprint Unlimited, which isn't nearly enough time to make a true evaluation. I mean, if you are going to bother with an evaluation period, at least make it long enough for people to get  a true representation of the experience.
The app provides the ability to pan, zoom and spin on the action, or pull back to display the entire field and manipulate the virtual camera to any angle you choose. You can pull up a live leaderboard and telemetry stats. You can also listen to the live race broadcast radio or live in-car audio for each individual driver, teams and officials.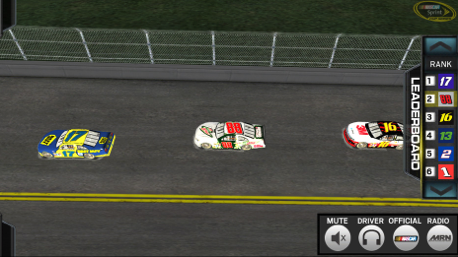 Visually, I would compare NASCAR Race View Mobile '13  to that of a nice mobile racing game. It looks good, and if all worked as advertised, it would really be a a nice way to follow a race, especially if you are on the go.  However, there were more than a few complaints in the App Store reviews after one weekend of racing, Currently, NASCAR Race View '13 has a 3/5 star ranking.  Common complaints are that it crashed frequently on load (I didn't have that problem, although the app didload quite slowly), audio wasn't always in sync, and you can listen to the audio in the background with the app closed.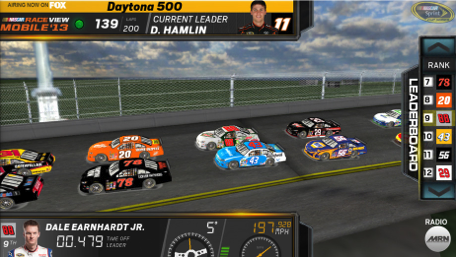 The NASCAR website claims that Race View Mobile is also available for Android, but if it is, they are keeping it well hidden. I couldn't find it listed in the Google Play store. Perhaps it just wan't released in time for The Sprint Unlimited.
Cost: $4.99 for a month subscription, $39.99 for the year.
Download
iPhone: NASCAR RaceView Mobile '13 – NASCAR Digital Media, LLC
iPad: NASCAR RaceView Mobile '13 – NASCAR Digital Media, LLC




by