Review: Rotowire Fantasy Baseball Draft Kit iPad App
Spring Training is underway and we are fast approaching the time of year for Fantasy Baseball drafts.  Are you looking to ditch the pen and paper and manage your fantasy baseball draft with your iPad or iPhone? If so, you'll certainly want to check out Rotowire's Fantasy Baseball Draft Kit for your iOS mobile device. 
Rotowire's Fantasy Draft apps have been impressing us since they first starting hitting the market. So, it's always exciting to check out the latest version. If you've used previous versions you'll notice the general layout is familiar, but this season's app gets some pretty significant additions.
NOTE: This review is based on the iPad version of the app, but there is also an iPhone version of the app (see links at end of the post).
Updating
You will want to pull the latest news data before you start using app (or at the very least, before your draft). The app doesn't automatically update the latest data every time you open the app but it will display a pop-up notification. By default it checks every 24 hours for updates. However, you can adjust it to check for updates any number of days up to once per week, or set it to never update.
Customizing Up Your Draft Settings
Assuming your league and it's scoring is already set, one of you first tasks will be customizing your league and draft settings.  The app gives you the ability to create and save multiple leagues, all with different settings, so you can have custom settings for each league. There are a couple of new features added to the draft settings this year. Now you can choose whether to draft players just for your team, or select the individual team for player. The other feature is the ability to set the minimum number of games for position eligibility. There is a plethora of scoring categories available. In all, there are 22 offensive and 22 defensive categories. Draft styles include snake, standard, and auction. You can do NL only, AL only, full MLB, or even create custom leagues with only the teams you choose.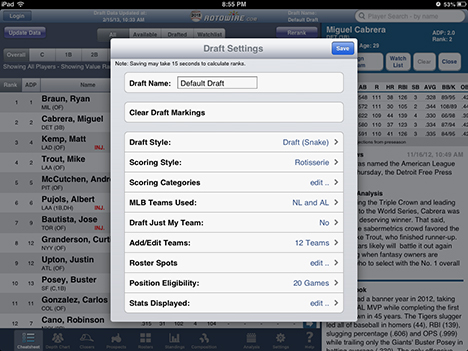 Rankings
Player rankings are based on your scoring system (or the standard default scoring system if you didn't set a new one).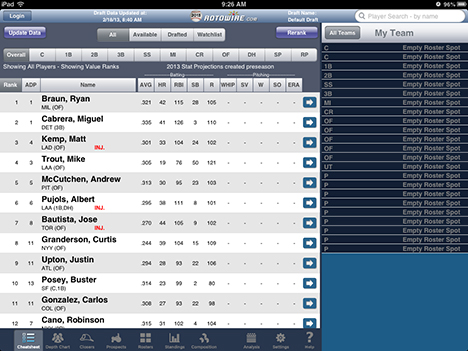 A new (and very awesome!) feature this year is the ability to filter players by ADP or any of the statistical categories listed along the top of the rankings list. If your league uses different categories, you can customize which stats are displayed on the cheat sheet in the settings under "Stats Displayed." The first 5 listed are shown on the cheat sheet, while the top 8 will appear in the positional rankings.
As in previous years, you can filter players by position, including middle and corner infielders.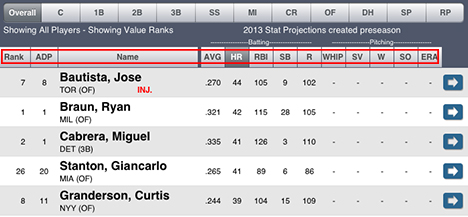 If you prefer to use someone else's rankings, or even your own, you can manually rank your players by selecting the "Rerank" button and then adjusting the rankings by drag and drop.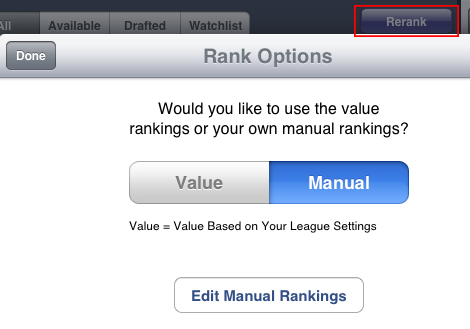 Drafting
Perhaps the best attribute of the Rotowire draft app is how it handles your live draft. A new feature has been added this year that allows you to not only designate the payers on your own team, but every other team as well. This appeared to be a common feature request from the App Store reviews of previous years' versions. They added it for their Fantasy Football Draft Kit, and now it's here for baseball as well. This is an optional feature that can be turned on or off in the settings. Knowing how the other teams in your league are filling out can be valuable to your draft strategy, plus, commissioners can log in each team without needing a pen and paper. Team names can be customized in the settings.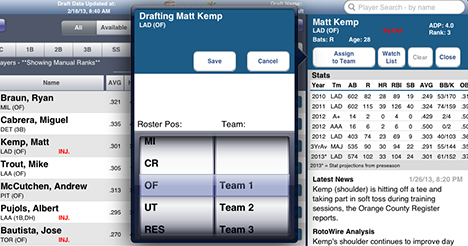 Also, as in past years, you can filter by All, Available, Drafted, and Watchlist. As players are select there draft status will be indicated by either a red "X" for players taken by other teams, or a green check mark for players you have drafted.

Your roster will appear on the right by default, but if you are tracking every team you can switch to see their rosters by selecting the "All Teams" button.
Blogs, Articles, and Other Features
The Rotowire Draft Kit has plenty of additional draft prep tools included. They have a depth chart, list of closers with stability ratings, health status, and "next in line" pitchers, a list of the top 200 prospects, projected standings based on team rosters, along with latest news, articles, and blogs. Rotowire subscribers can post comments to blogs by logging in with their username and password.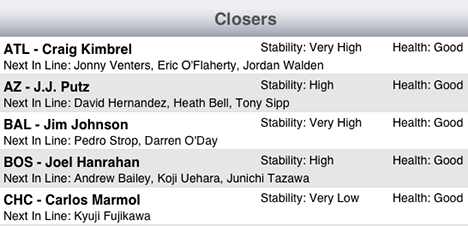 Overview
For my money, Rotowire Fantasy Baseball Draft Kit is hands down the best fantasy baseball draft app available and it gets my highest recommendation. It's quite clear that the developers of Rotowire's fantasy apps are not only constantly striving to improve their product, they listen to the fantasy players who use their product and provide feedback. A year ago, a common comment was the desire to be able to fill in players on all rosters, not just your own. Last fall, Rotowire added that feature to their Fantasy Football Draft Kit, and now they've done the same with fantasy baseball. Since it's release earlier this winter, Rotowire has already pushed out 4 updates to the Fantasy Baseball Draft Kit 2013 app that have added featured and fixed minor bugs.
If you run into any issues, take a look at the RotoWire Fantasy Baseball Draft Kit FAQ.
Cost:  $4.99
Download
RotoWire Fantasy Baseball Draft Kit 2014




by