Watch NBA All-Star Media Day Live Online
The events of NBA All-Star weekend spectacular essentially tip-off this afternoon with the NBA Al-Star media day. If you've got some time to kill over your lunch break, or if you boss is out of the office, you can watch the media live online at NBA.com. 
Viewers will be able to choose from four cameras showing players taking questions. The Eastern Conference All-Stars will take the stage at 1:30 PM ET, with the  Western Conference All-Stars to appear afterwards.
Watch the NBA All-Star Media Day Press Conference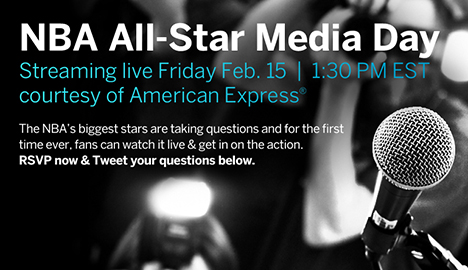 Have a question for an NBA All-Star? Tweet your questions with hashtag #AmexAllStar for a chance to have them answered at NBA All-Star Media Day.




by