CBSSports.com Online Super Bowl Viewer was a Big Winner
For the second year in a row, the Super Bowl was live streamed online. Last year it was NBCSports who provided the stream using their NFL Sunday Night Extra online viewer that live streams every Sunday Night NFL game. This year, however, with CBS broadcasting the Super Bowl, it was up to CBSSports.com to take up the task of streaming the big game.
This isn't CBSSports.com first foray into streaming online sporting events. They have been live streaming College Football and Basketball for a few years, but have never taken on anything with the magnitude of the Super Bowl. So, some people may have wondered how well they would pull off streaming the Super Bowl. Well, I for one thought they did a fantastic job.
For fans unable to watch on TV just having a plain TV simulcast probably would have been plenty sufficient. However, CBSSports.com gave online viewers some pretty cool additional features. They even catered to those who are more into the commercials than the game by adding commercials to the stream both live and on demand.
The viewer was very nicely designed. A left sidebar allowed you to choose between seeing game stats, tweets from CBS Sports media accounts, and a commercials tab. The default viewer featured a video screen with five different camera angles. The was the "Main" tv feed, "Fan Choice" which followed one player chosen by the fans, an "All-22" view, a "Cable view" which showed the overhead mobile camera, and a "Sideline" view.
The Twitter feed was a nice way to get instant reaction form some media members to some of the action during the game, and the stats feature was  something I would check periodically. Of course, you could also go "Full Screen" and just focus on the game itself.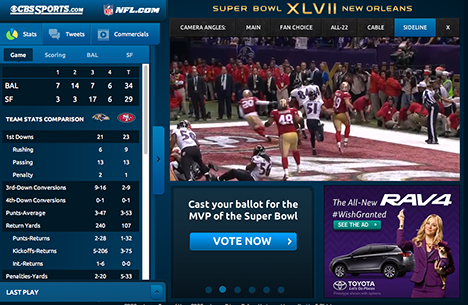 I was surprised to see an "ALL-22" camera option in the application. I believe this is probably the first live NFL game to broadcast an "All-22" view. Up until this past season, the NFL kept such views under under lock and key and treated them as proprietary information only to be shared with NFL teams and certain NFL partners (like NFL Films, etc.) NFL Game Rewind added on-demand All-22 views this past season, but that app doesn't feature any live games.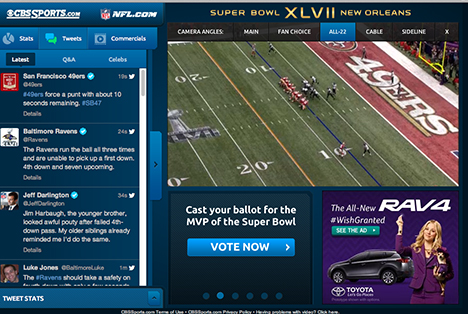 The online stream was behind the telecast by 15-20 seconds or so. This delay actually worked great for me as I was using my laptop for a  "second screen" experience and it allowed me to watch plays from an alternate camera angle immediately after it happened.
If I can whip out my crystal ball and look into the future a bit, I can see this type of presentation becoming the future of live TV broadcasts, not just online streams. The day may be coming when TV's come with the built in ability to choose the camera angle of a game, view instant reaction via Twitter in a sidebar (or some other social media app), cast votes for things like player of the game, and (less cool for viewers but positive for advertisers) on screen ads.




by