Best Baltimore Ravens Mobile Apps for iOS and Android
Want to keep up to date with the latest Baltimore Ravens news and articles while on the go? Check out this collection of the best mobile apps for the Ravens for Android, iPhone, and iPad.
Baltimore Ravens Mobile (iPhone & Android)
This official app of the Baltimore Ravens featuring a Home screen with the latest game information, news, and media, with pop-up navigation options.
Download Baltimore Ravens Mobile from iTunes or the App Store or Android Market.
Team Stream (Android, iPhone, iPad)
The Team Stream App from BleacherReport.com is a pretty great sports news aggregator apps. The Team Stream app will allow you to filter content on the Baltimore Ravens and/or any other sports team. News, stories, and Tweets from a large variety of sources like ESPN, CBSSports.com, ProFootballTalk.com, Baltimore Sun, BleacherReport.com and many others. Free.
Download Team Stream for iPhone or Team Stream HD for iPad
Download Team Stream for Android from the Android Market.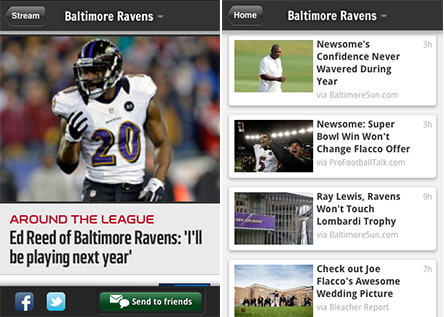 NFL Mobile (Android, iOS – Verizon Only)
Verizon Wireless customers have exclusive access to the NFL Mobile app for iPhone and Android. Loaded with great content for the 49ers and every other NFL team. NFL Mobile will live stream Super Bowl 47 but customers will require $5 / month video subscription.
Download NFL Mobile for iPhone from the App Store.
Download NFL Mobile from the Android Market.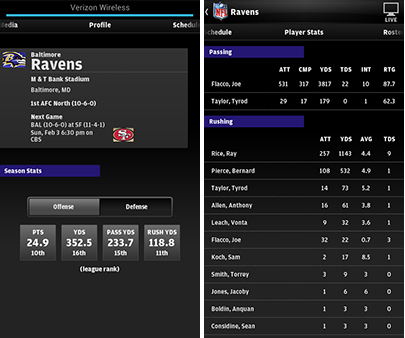 by