Super Bowl XLVII Guide Mobile App for iOS & Android
Planning a trip to Super Bowl XLVII in New Orleans? The free Super Bowl XLVII Guide for iPad or iPhone can help you find your way around town during Super Bowl week.
 The interactive guide provides information and maps to official Super Bowl events, local restaurants, nightlife, and points of interest in and around New Orleans. Set calendar alerts and push notifications for anything on the map.
Missing this year, unless it's coming in an update, is the interactive 3D map of the stadium that was featured in last year's app.
While this is a nice app to have for all those in New Orleans during the week of the Super Bowl, I can't see  user getting much out of this app if you aren't in New Orleans.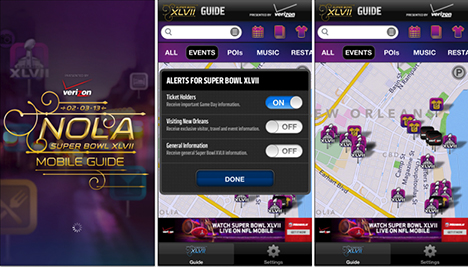 Cost: Free
Downloads
Android: Super Bowl 47 Mobile Guide from Google Play
iPhone: SB XLVII Guide – NFL Enterprises LLC
iPad: SB XLVII Guide – NFL Enterprises LLC




by