TreadmillVR Max iPad App: Enjoy the Outdoors While Inside Running on the Treadmill
It's a new year and many of us will be logging more than a few hours on a treadmill. If you find staring into space to be a bit too boring, you may want to check out the TreadmillVR Max app for your iPad. Here's our review.
TreadmillVR Max is an app that attempts to deliver a "point of view" or virtually reality type experience for treadmill users. You place your iPad in the tray or magazine rack or you treadmill, choose a scene, and start running. It strives to bring the outdoors experience indoors while using a treadmill or other stationary devices.
The app itself costs $2.99 from the App Store and includes several free scenes and the option to download additional free or premium scenes. While it's nice to have several included scenes (as opposed to other apps that require you to pay extra for each additional scene), the video quality of those scenes is definitely not high definition.
Among the included (or freely available) scenes are South County Regional Park in Boca Raton, Deerfield Beach, Wooded Park in Central Florida, Rio Trail in South Florida, Cool Forrest Path in North Florida, and a Local High School Track. While you are running you can adjust the speed of the scene to better represent the speed at which you are moving on the treadmill. Changing scenes is as easy as a few taps of the screen.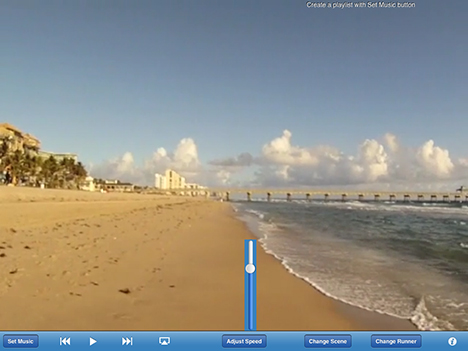 There are also scenes that don't really mimic running or walking outdoors. One scenes makes it appear as if you are flying through the clouds. Another is just a scene of the waves crashing on the beach. That particular beach scene doesn't "move" to give the indication of running, but I can see where it would be enjoyable to watch while exercising.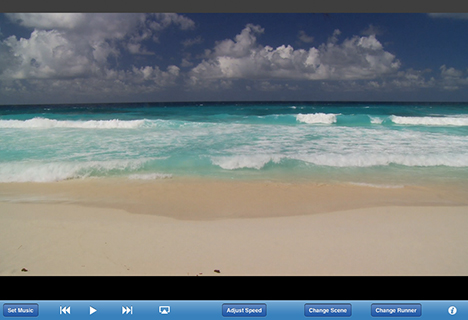 You can choose to have "running mate" run along with you in the app. This feature transposes one of almost a dozen runners on the screen while you are running behind them. Unfortunately, this effect looks very awkward on the screen as the runners tend to appear like they are running on an invisible treadmill which is floating about 4 feet off the ground. There is an option to run alone, which is what I used most of the time.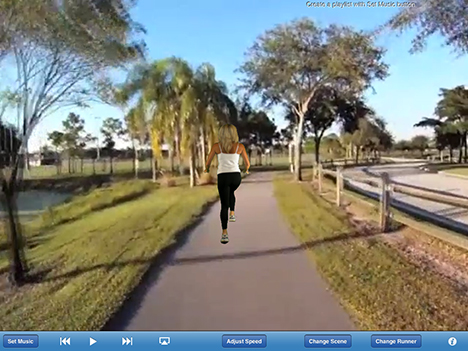 Other Features
Mental Boost feature is a set of alternative  scenes that display positive subliminal images along with motivational tracks and energetic music. One is included with the app and others are available as premium downloads. The Mental Boost is designed for the "runner's high" stage of running.
Want music while you run? You can select songs or playlists to listen to while using the app. If you don't have any iTunes music on your iPad, you can also run a radio or music app in the background while using TreadmillVR Max. The app is also AirPlay compatible so it's easy to connect
Overview
The app is a decent one. It didn't blow me away, but it was worthwhile. I'd score it a 3/5. It depends on what you are looking for as to whether or not you'll be satisfied with this app. Personally, I enjoyed the videos that mimic actually running or walking outside, such as the variety parks and trails. Some of the others seemed a bit silly like pushing a cart through a Walmart or running on top of clouds. The quality of some of the videos isn't the best and improved quality would certainly improve the experience. Overall, I think the app is a good start and certainly has potential. The adjustable speed is a great feature and there is a nice selection of free scenes included or available via free download. AirPlay is a also a very welcome addition for those with an Apple TV. The video quality could stand to be improved and the running mate feature needs better execution. At the comparatively affordable price of $2.99, it's worth giving it a try. It certainly could make those long hours on the treadmill during the winter a little more pleasant and enjoyable.
Cost: $2.99
Download
Download TreadmillVR Max from the App Store




by