NFL Game Rewind Playoff Only Subscription Now Available for 2013 Playoffs & Super Bowl 47
Want to be able to replay every 2013 NFL Playoff Game including Super Bowl 47? NFL Game Rewind Playoff Subscriptions allow you unlimited access to the NFL Playoffs Online and On Demand.
NFL Game Rewind is the NFL's digital online product that gives fans access to every NFL game on-demand, commercial free, and online shortly after it's original live broadcast (usually within a few hours). It's will work with all major browsers and on Mac or PC, and tablet owners can watch via the free NFL Game Rewind app. (See download links below)
The price of the Playoff Only subscription this year is $19.99. With a Playoff Only subscription, you'll get access through February 10th, 2013. Or, with the Season Plus packages you can get full access to the entire 2012 season and playoffs (including coaches film) through July 31, 2013 for $39.99.
If you've never subscribed to NFL Game Rewind before, you may want to check out our review of NFL Game Rewind. Tablet owners can also watch on the go by downloading the free NFL Game Rewind app for iPad or Android (Requires a NFL Game Rewind subscription).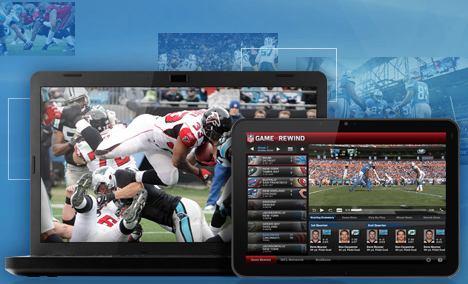 Links
Order NFL Game Rewind for 2012 from NFL.com
Download Tablet Apps
iPad: NFL Game Rewind for iPad
Android: NFL Game Rewind for Android from Google Play




by