ESPN SportsCenter Feed Mobile App for iPhone & iPad
ESPN recently released it's new ESPN SportsCenter Feed iOS app that delivers the latest SportsCenter headlines to your iPhone, iPad, or iPod Touch. 
The concept is simple. The latest SportsCenter headlines constantly updated in a feed-type layout. The content includes plenty of video clips including highlights, reports, commentary, etc. Every video clip is preceded by a brief ad, which can get old very quickly when you want to watch a lot of clips, but it's a small price to pay to get the video content.
The default setup filters by top stories, but you can choose to filter by sport as well as a few other options like most popular and videos. The app encourages you to sign in using your ESPN account or Facebook, but it isn't required. Although, signing in allows you to customize the feed for your favorite teams.
And, of course, you have the ability to easily post stories to Facebook and Twitter.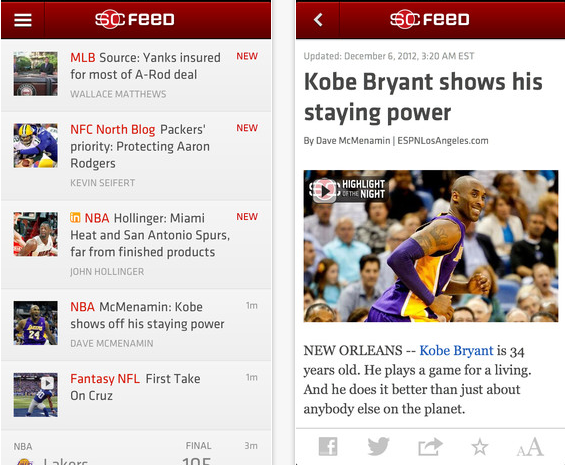 The ESPN app family continues to grow, but I'd really prefer to see a little more integration rather than continuing to push out new apps that merely tackle one aspect of ESPN. It would be nice to have a news app that also let you listen to what is currently airing on ESPN Radio, or jump into watching a game on ESPN.
Cost: Free
Download
iPhone: ESPN SportsCenter Feed – ESPN
iPad: ESPN SportsCenter Feed – ESPN




by