AT&T Cotton Bowl Classic Mobile App for iOS & Android
The AT&T Cotton Bowl has released a mobile app for it's 2013 game that's got plenty of content whether you are a fan of Texas A&M or Oklahoma, a fan of the Cotton Bowl, or just a college football fan attending the game. The AT&T Cotton Bowl Classic app is available for iPhone, iPad, and Android phones and tablets. 
The app has a pretty impressive amount of content, including video highlights, a news feed with the latest Cotton Bowl updates and articles, live team press conferences, polls, and stats during the game. If you are planning to attend the game in person, the app has plenty of features to help find parking, check the weather, find your seat, and other venue information.
The 2013 Cotton Bowl will take place on January 4th, 2013 at 8:00PM ET at Cowboys Stadium in Arlington, TX. The game will be broadcast live on Fox. This year's game will feature 2012 Heisman Trophy winner Johnny Manziel and the Texas A&M Aggies as they take on the Oklahoma Sooners.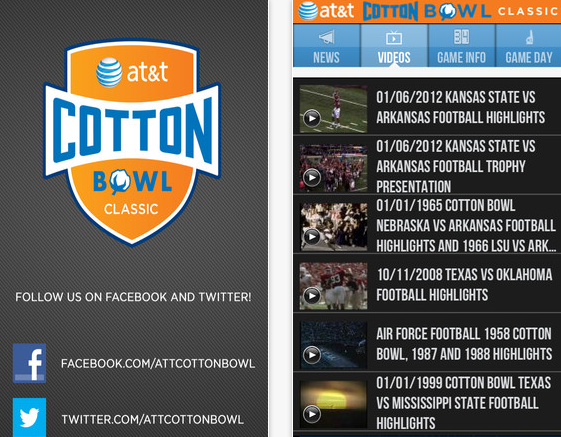 Cost: Free
Download
iPhone: AT&T Cotton Bowl Classic from the App Store
iPad: AT&T Cotton Bowl Classic for iPad
Android: AT&T Cotton Bowl Classic from Google Play




by