Yahoo Adds Pop-up Scoring Breakdown to Fantasy Football My Team & Matchup Pages
You may have noticed an added feature to your Fantasy Football lineup this week. Yahoo has added a pop-up scoring breakdown feature to the "My Team" and "Matchup" pages.
By clicking on the hyperlinked Fantasy Points number for a player on your roster, you will get a yellow popup box that displays the scoring breakdown for the player based on your set you scoring system. The feature is also available during the game and scoring is constantly updated.
I really like this addition because I'm growing rather frustrated with Yahoo's Statracker. It seems to disconnect frequently throughout the day and reloading takes forever. It's so much easier to just reload the matchup page on my browser and click to check out the scoring breakdown.
This is the second sweet feature added recently to Yahoo Fantasy Football. The first was the Recap feature that generates a simulated article about each matchup in head-to-head leagues.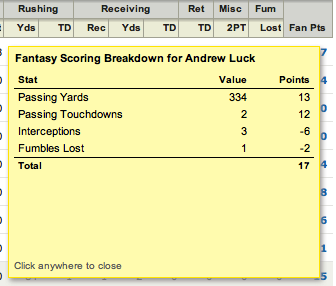 Yahoo is coming off a bad week when server issues caused outages right before the start of week 10 games. If they want to prevent users from bailing en masse to ESPN or NFL.com next season, they need to continue to improve the product and add features to both the browser and mobile versions.




by