Troy Polamalu Mobile App: Troy 43 for iPhone & Android
Pittsburgh Steelers All Pro Safety Troy Polamalu is know for his dynamic, physical play on the gridiron, as well as his trademark long hair.   With his new Troy 43 mobile app, you can follow all things Troy Polamalu on the go. 
Troy 43 is the Troy Polamalu Official App with exclusive video content, Troy Polamalu pics, news, special features and more. Some of the unique features include uploading pics with Troy Polamalu's hair, Troy music playlist, and Troy's Movie of the Week. Videos include some of Troy's greatest moments on the field, Troy's commercials, and some personal videos. The News sections is very frequently updated with Steelers news and blog posts from a variety of sources.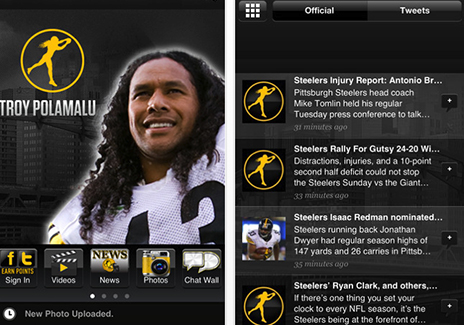 Cost: Free
Download
iOS: Download Troy 43 from App Store.
Android: Download Troy 43 for Android from Google Play




by