NFL Sunday Ticket on PS3 Price Reduced to $149.95
As they did last year, NFL Sunday Ticket for PS3 has reduced the price of the NFL Sunday Ticket for the remainder of the 2012 NFL Season. Now, you can get every out-of-market Sunday afternoon NFL game, plus the NFL Red Zone Channel for $149.95.
The original full season price was $299.95. We reviewed the NFL Sunday Ticket on PS3 (and on iPad and PC) earlier this year and found the PS3 experience to be very good one.  The price is pretty hefty, but it becomes more reasonable when you factor in that you don't have to commit to a year's worth of DirecTV programming.
To get NFL Sunday Ticket through your PS3, go to the PlayStation® Store on your PS3™ and find NFL Sunday Ticket in the Media/Apps Category. You'll also find it available in the My Channels section under the TV/Video Services column on the XMB (Cross Media Bar).
For more information on NFL Sunday Ticket on the PS3, check out the Playstation website.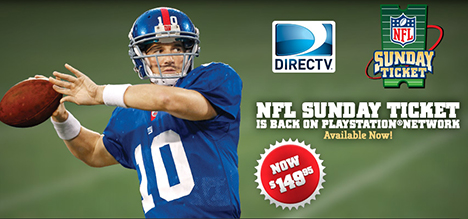 by