Duke Blue Devils App for iPhone and Android
With the College Basketball season now officially underway, fans of Duke Blue Devils basketball will want to have all the latest news and updates at their fingertips by downloading the Duke Blue Devils app for Android or iPhone. 
The Duke Blue Devils app covers all Duke University sports, not simply Men's Basketball. You can filter the content by sports or view all athletic content together. The app delivers the latest Duke news, scores, schedules, rosters, player & coach bios, live stats, and photos.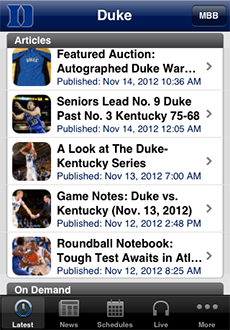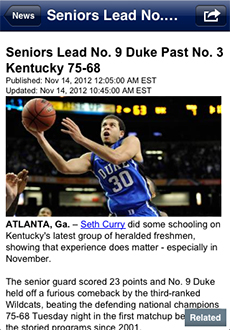 A in-app upgrade to the Premium version ($4.99) is required to view the on-demand video content. Live audio of events is available with a GoDuke Inside Access account. Prices for the inside Access account begin at $9.95 for a monthly subscription.
Downloads
iOS: Download Duke Blue Devils from the App Store.
Android: Download GoDuke app from Google Play




by