Sun Belt Digital Network App for iPhone, iPad, and Android
Are you a fan of Sun Belt Conference sports? Football, Basketball, or anything else? If so, you'll want to check out the Sun Belt Digital Network app for iPhone, iPad, and Android. 
This very nicely designed app really does have a bit of everything when it comes to Sun Belt Conference sports. Obviously, Football and basketball are big and their is plenty of news, scores, rosters, videos, highlight packages, coaches conference calls, and more for those sports. But you'll also get the smaller men's and women's sports like golf, cross country, soccer, tennis, softball, and more.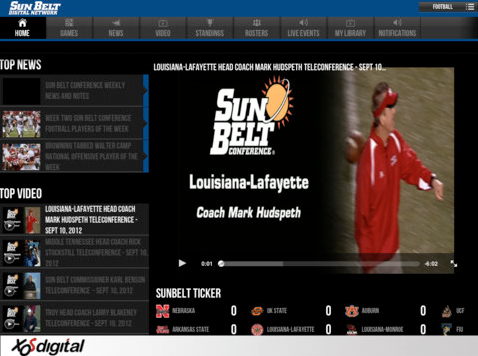 Sun Belt Conference teams include: Arkansas State, Louisiana-Monroe, Middle Tennessee, Western Kentucky, Louisiana-Lafayette, Troy, North Texas, South Alabama, Florida Atlantic, and Florida International.
Download
iPhone: Sun Belt Digital Network for iPhone
iPad: Sun Belt Digital Network for iPad
Android: Sun Belt Digital Network App from Google Play




by