Boise State Football Releases App for iPhone & iPad
The Boise State Broncos are the perennial BCS busters who play on the blue field in Idaho. Fans of Boise St. will want to check out the Boise State football app for iPhone and  iPad.
The app delivers a team schedule, headlines, and video content. Learn about the coaching staff, facilities, the program, Broncos in the 2012 NFL draft, and a look ahead to the Big East in 2013.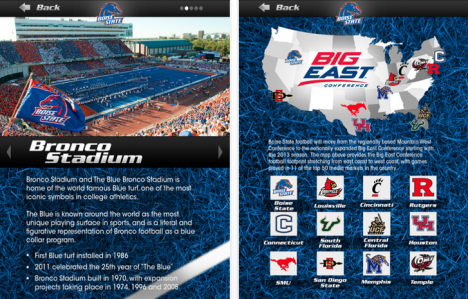 It's a nice looking app but seems to be missing some key features for fans. There is a schedule, but it doesn't include updated results. There also does not appear to be any teams and player stats. It seems more targeted at recruits as opposed to fans. However, it still got plenty of goodies for Broncos fans such as highlights and press conferences.
Cost: Free
Download
iPhone: Boise State Football – DTX Creative
iPad: Boise State Football – DTX Creative




by