Manage Your Yahoo & ESPN Fantasy Basketball Teams with a One Mobile App (iPhone, iPad, Android)
If you are in multiple Fantasy Basketball Leagues on multiple platforms,logging in and updating lineups can be a pain especially on a mobile device.  Fantasy Basketball '12 for Yahoo and ESPN allows you to manage multiple leagues from either website in one convenient app. 
Features include drag and drop lineup changes, player search, add/drop and trading of players, live game scores, weekly matchups, league message boards, latest transactions, team notes, standings, and rosters, player news and notes from Rotowire.com, and injury reports.
ESPN hasn't been releasing a Fantasy Basketball mobile app, so this is your only alternative to the mobile browser if you are an Android user.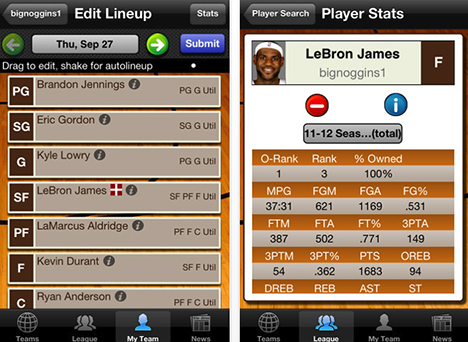 Price: $2.99 for iPhone or Android; $4.99 on the iPad
Downloads
Android: Fantasy Basketball 2012 from Google Play
iPad:Fantasy Basketball Draft '12 HD for Yahoo/ESPN – Bignoggins Productions LLC
iPhone:Fantasy Basketball '12 for Yahoo/ESPN – Bignoggins Productions LLC




by