NBA League Pass Broadband delivers live out-of-market NBA basketball to your computer and select Internet connected devices. This year's version is now available for order. 
Packages and Pricing
One again their are two separate NBA League Pass options. Premium gives you access to every team for $179 (on time payment), or 5 installment of $39.99. The "Choice" Package gives you access to any 5 teams of your choosing for $119.99 (one time price) or 5 installments of $26.99. Both packages offer "up to" 720 HD picture, game stats, picture in picture, mosaic mode, and full season on demand archives. The fine print says that you need "at least" a 3.5 MB/s connection for 720 HD.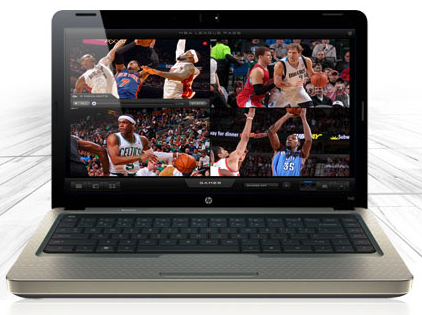 Devices
Your computer, obviously. Mac or PC. It's also available on Roku, Apple TV, and a variety of other TV connected devices. It's been reported that NBA League Pass will also be available this year on XBox, but as of this original post (10/10/2012) I have yet to see it appear. XBox owners probably already know this, but watching NBA (or anything for that matter) will require an XBox Gold subscription which will cost you an extra $60 / year or $25 for 3 months. So be sure to factor that into your budget. Although, you can get discount subscription cards on Amazon.com. What about PS3 you ask? Sadly, NBA is the only major professional sports app not currently available for PS3.
Free Preview
In past season, NBA League Pass Broadband has been available for a short period at the beginning of the season (usually about a week) as a free preview.
Mobile and TV Options
If you don't mind watching on your mobile device (iPhone & Android) and want to save a few bucks (or more than a few) NBA League Pass Mobile is available through the NBA Game Time app for $49.99 (or $39.99 for Sprint customers). The mobile version does not include the iPad. If you order through your TV provider, you'll get access on all devices for one price.
Overview
NBA League Pass isn't for everyone. It's really just for the out-of-market fan, or the fan who just can't ever get enough NBA basketball.
We're planning a more thorough review once the season tips-off. In the meantime, you can check out our write-ups on NBA League Pass Broadband for 2010-2011 and for 2011-2012.
Make sure you fully understand the blackout rules before purchasing. Essentially, if an NBA game is available on TV in your area, it will be blacked out in NBA League Pass Broadband. That includes local and national broadcasts. So, every game broadcast on ESPN, TNT, ABC,  NBA.TV, or any other local or regional station, will be blacked out in your area. It's also important to know that even the archived games are blacked out. Also, it's regular season games only. No pre-season. No playoffs.
Order NBA League Pass Broadband at NBA.com
Category: NBA