Rotowire App Will Deliver Personalized Fantasy Advice, For a Fee
Needs some Fantasy Advice? Are you willing to drop a few bucks to get personalized advice? If so, you might want to grab the Rotowire Ask An Expert app for iPhone and iPad. 
First, you need to be a registered user of Rotowire.com. If you aren't already, there is a option to register within the app. Second, you'll need to purchase credits to ask questions. Each question will cost you $1.99, or you can buy 3 questions for $4.99.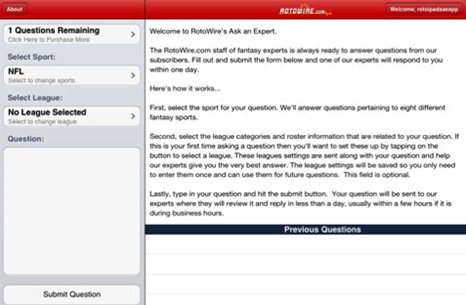 To ask a question, you first select the sport. And it's more than just NFL, and MLB. They offer NBA, NHL, Golf, Nascar, and college football and basketball. Next, you'll need to select the league settings and roster information to better help them answer your question. Finally, type you question and submit it.
They claim all questions will be answered in "less than a day" and "usually within a few hours if it is during business hours." Of course, this means anyone who waits until Sunday morning to make fantasy football roster decisions may not be able to  get an answer in time.
The concept is interesting. You pay a nominal fee for some personalized fantasy advice. On the flip side, I'm not sure that 2 bucks is nominal enough for a single question especially if you are just asking for lineup advice. While I think Rotowire might be on to something here, the price per advice likely needs to come down while the response time, especially on the weekend for football, needs to be more like an hour.
Download
Rotowire Ask An Expert for iPhone and iPod Touch
RotoWire Ask an Expert for iPad




by