ESPN Radio App is Now Free Through the End of 2012
Back in May, ESPN released a "new" version of it's ESPN Radio app and greedily decided it was a good idea to charge every user, even those who had already paid for the "old" app, $4.99 to use it. Yeah, even the loyal listeners who had already paid for the app were told they had to pony up another $4.99. Their rationale was that this was not an upgrade, but a completely new app. Outrage by ESPN Radio app users was universal and the app plummeted to a one star rating in iTunes. Eventually, this outrage got ESPN to change it's tune. 
ESPN has flipped-flopped on it's ridiculous stance and they even briefly offered refunds to those that had actually paid the $4.99 for the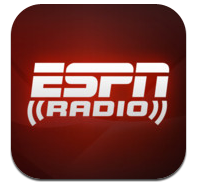 app. And, now the ESPN Radio app is being offering free of charge through December 31, 2012. They also did away with the requirement that you have an ESPN account to use the app. Now, you can simply skip the registration.
I missed this announcement last month, likely because I've pretty much been completely ignoring ESPN Radio since their attempted fleecing of their mobile listeners began last Spring.  It's still bothers me that they tried to do this, and I have no doubt that had the outcry no been so loud, they likely would've tried to do it again in a few more years.
Even though the app in currently free, I still recommend using TuneIn Radio. It's free (unless you want to pay 0.99 for an ad free version) and doesn't lock you in to just the ESPN stations.  Although, I do recommend you go grab the ESPN Radio app now while it's free just in case ESPN eventually tries to block it's live streams from other competing radio apps.
Downloads
ESPN Radio app for iPhone, iPad, & Android
TuneIn Radio for iPhone, iPad, & Android




by