ESPN Fantasy Underground Podcast Offers Serious Fantasy Football Analysis
I can never get enough Fantasy Football talk and analysis. There are plenty of Fantasy Football podcasts out there, but not nearly enough of them offer high quality analysis. If you are looking for a better fantasy football podcast, or just can't get enough fantasy chatter, you'll definitely want to check out ESPN's Fantasy Underground.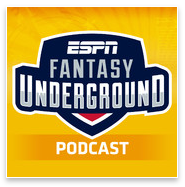 ESPN Fantasy Underground is a weekly podcast hosted by Patriots reporter Field Yates from ESPNBoston.com and ESPN Sr. Fantasy writer Christopher Harris. The approach to fantasy analysis taken by Yates and Harris is to watch every NFL game every week and analyze the video for the hidden trends, over-rated performances & under-rated performances, and potential break-out stars. The  show's clever tag line is "the resistance against the tyranny of the box score."
Christopher Harris co-hosted the excellent ESPN Fantasy Draft podcast this past summer, so I had high hopes for Fantasy Underground. Well, it doesn't disappoint. Harris and Yates focus on the intricacies and fine details that are lacking from most podcasts. Is the running back hitting the holes with authority? Is the offensive line creating holes or getting dominated? Is the QB making the correct reads and are his receivers getting open?
The new Fantasy Underground podcast is a stark contrast to the ESPN Fantasy Focus Football podcast, which mixes fantasy football talk with plenty of goofy entertainment (what the podcasters call "nonesense"). If you are looking for real serious analysis that you won't get from many other podcasts (or any other media for that matter), you need to make ESPN Fantasy Underground part of your weekly fantasy football preparation.
Listen to Fantasy Underground online through ESPN's Podcenter or download from iTunes.




by