Where to Watch the 2012 Ryder Cup Live Online
Every other year the best golfers from the United States take on the best golfers from Europe in the Ryder Cup. NBC and the Golf Cannel will provide the TV broadcast, but if you can't be in front of the TV you still have a few options for watching online.  
RyderCup.com
Beginning on Friday, Ryder Cup Live will stream live coverage from 8 AM ET to 6 PM ET on Friday September 28th and Saturday September 29th, and 12 Noon ET to 7 PM ET on Sunday September 30th.
The Ryder Cup site doesn't have much of anything in way of details at this point, so we aren't sure exactly what this coverage will entail. If they follow the online streaming trend of many of the major golf tournaments we are likely to see exclusive group coverage, or perhaps coverage of certain holes.
Watch Ryder Cup Live at RyderCup.com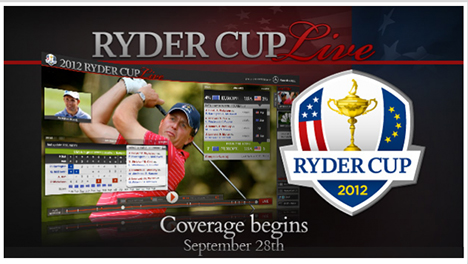 NBCSports.com
On the Weekend, NBCSports will live stream complete broadcast coverage beginning at 9AM ET on Saturday and Noon ET on Sunday.
Watch the Ryder Cup Live Online at NBCSports.com
Mobile users with iOS devices can watch or listen to the Ryder Cup live by downloading the 2012 Ryder Cup app for iPad or iPhone.
UPDATE: The Ryder Cup will also be streamed live on the iPad through the NBC Sports Live Extra App.




by