Ryder Cup 2012 iPhone and iPad App Delivers Free Live Video Event Coverage
Golfs bi-annual battle between Europe and the United States takes place this week at Medina Country Club in Medina, Illinois. Follow the action and even watch live on the go with the Ryder Cup app for iPhone and iPad. The live video content is free now for 2012, unlike last Ryder Cup when it was only available through an in-app upgrade. You'll also get the latest Ryder Cup news and  highlights, along with photos and social media integration. There are also optional alerts, including notification for new videos, team and player bios, Tour of Medina Country Club with Photos and fly-overs , plus real-time commentary from players, analysts and PGA editorial staff Can't watch the event? You'll be able to listen to live radio coverage.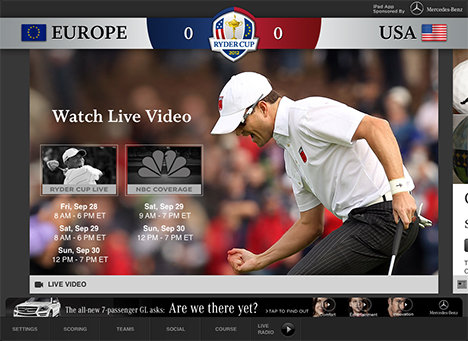 Download
2012 Ryder Cup for iPhone from the App Store.




by