Play Along with MLB Games with MLB PrePlay for iPad and iPhone
Do you get a kick out of predicting upcoming at bats during MLB games? Or maybe just want to supplement your baseball-watching pleasure with an interactive game? MLB PrePlay app for iPad or iPhone may be up your alley.
MLB PrePlay challenges you to predict to the upcoming plays while you're watching baseball on TV. You predict things like whether the batter will get a hit, walk, or an out. And if they get a hit or an out, what type of hit or out will it be? Between innings challenges include guessing the number of pitches during an inning or whether the team at bat will go down 1-2-3. For each correct prediction you win points. Bigger point score are awarded for correctly predicting the type of hit (Single, double, triple, etc.) or the type of out (Ground out fly out, strikeout, etc.)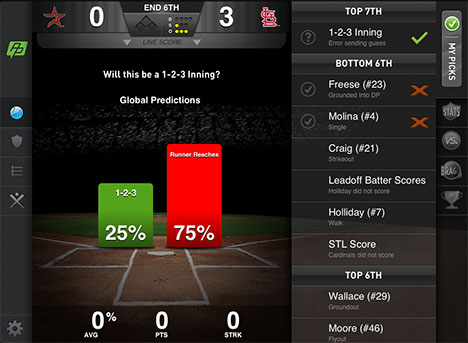 Before the game begins you can make predictions for the winning team, pitchers' lines, and each starter's fastest pitch up. You can compete against fans across the globe or your friends.  During the games there is a chat feature within each game that'll allow you to interact with other fans that are watching the same game and playing MLB PrePlay.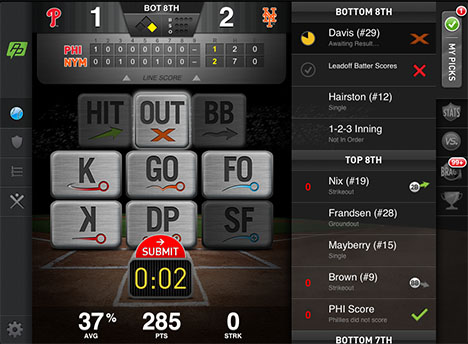 If you are a hockey fan, there is also an NHL PrePlay game that challenges you to predict who will score the next goal, win the power play, etc.
Overview
I found MLB PrePlay to be somewhat fun for awhile, but I ultimately I began wanting a little bit more in the way of strategy. Most of it is just guessing whether a certain batter will get a hit or an out. That's OK, but I was hoping for things like trying to predict if a baserunner will try to steal, if a catcher will call a pitch-out, or the manager will pinch hit. It was interesting enough that I'll probably pick it up and play again, especially during the playoffs.
To play MLB PrePlay, you are required to create an account with PrePlay which tracks your results and point totals over time. The app is free for both iPad and iPhone.
Download
iPhone: MLB PrePlay – Pre Play Sports
iPad: MLB PrePlay – Pre Play Sports




by