Watch Pac 12 Sports On Your iPad with Pac-12 Now App
Want to watch some Pac 12 football or basketball on your iPad? You might be able to do so. Heres the big caveat… You need to have a TV subscription with either Time Warner Cable, Cox Communications, or  Brighthouse Networks that includes Pac 12 Network. 
This follows the similar model of apps like WatchESPN that require a paid subscription with certain select TV providers. The features appear to be a bit limited at the moment, and it's currently only available on iPad, but the Pac 12 is promising much more in the way of live and on-demand content to come with in the next year.
There is some content available to all comers for free, but much of the goodies are reserved for those with a qualifying TV subscription.
The app allows you to filter the content by sports and by school, which is a nice feature. The layout and design are visually appealing, but I found the navigation of the video clips to be confusing and vague. The video clips, for instance, are displayed as panels in the app, but carry only the titles like Football or Basketball, so it's nearly impossible to know what you are going to watch without starting the video.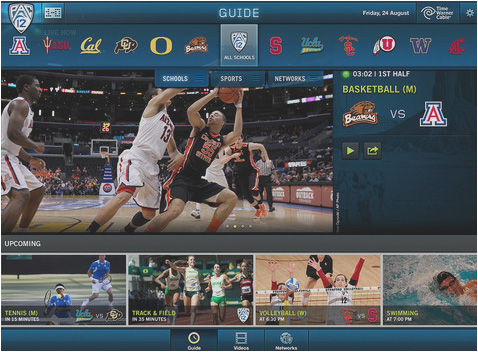 Download
Pac-12 Now – PAC-12 Enterprises, LLC.




by