Best NFL iPad Apps for 2012
The NFL's 2012 season kicks off this weekend. Whether you are traveling, running around town, or spending Sundays on the couch in front of that big screen TV you can get stay in touch with everything going on in the NFL with these iPad apps.
NFL '12 (Free, Optional in-app upgrade for additional content)
The NFL '12 app itself is a pretty basic NFL offering. It'll provide scores, News, and Standings, as well as alerts, and the ability to set your favorite team for free. It does have some valuable premium options if you are willing to part with a little cash. NFL Audio Pass subscribers can sign in with their NFL.com credentials and listen to every NFL game through the app. Video content can be accessed for $9.99 for the entire season. This currently includes Fantasy Live, Thursday Night Football Live (A live look-in show) , and video on-demand. The bummer is pretty much all of this video content is available on NFL.com for free, but you'll need the subscription to see it on the iPad.
Downlaod NFL '12 for the iPad.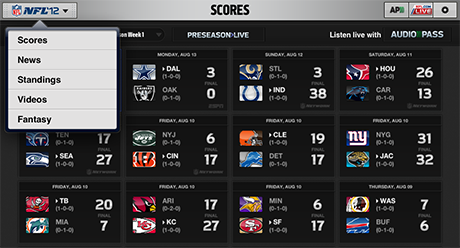 NBC Sports Talk (Free)
ProFootballTalk.com has pretty much become the destination for all the latest NFL news and rumors. It doesn't have it's own app, but is rather bundled with other NBC Sports blogs in the NBC SportsTalk app. It's very well designed and easy to navigate through the latest posts from Mike Florio and his crew.
Download NBC Sports Talk for iPad from the App Store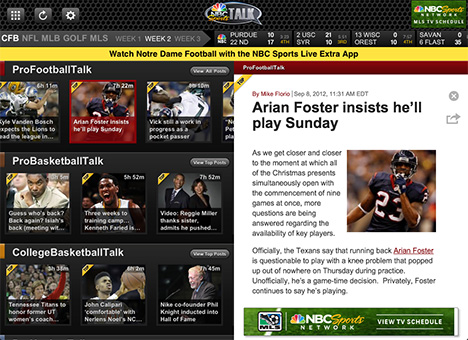 NFL Sunday Ticket (NFL Sunday Ticket Subscription required)
For NFL Sunday Ticket subscribers this app will give you not just live coverage of every out-of-market NFL game each Sunday afternoon, but you will also get the super-awesome Red Zone Channel. If you've been wanting the NFL Sunday Ticket but can't get DirecTV where you live, you might want to purchase the Online only version of NFL Sunday Ticket which includes iPad and other mobile device access.
Download Sunday Ticket – DIRECTV, Inc. from the App Store.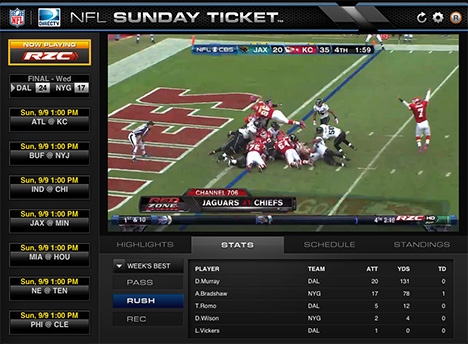 NFL Game Rewind (Subscription Required)
NFL Game Rewind lets you watch every NFL game on-demand beginning the day after the game. The NFL Game Rewind app is new for 2012 and requires a subscription. The Season subscription ($39.99) gives you access for the entire NFL season. The Season Plus package ($69.9) gives you access for the full year, plus Coaches Film and a telestrator feature. For more details, check out our full review of NFL Game Rewind of the iPad. About the only downside is that AirPlay mirroring is disabled so you can't stream it to your TV via an Apple TV.
Download NFL Game Rewind from the App Store.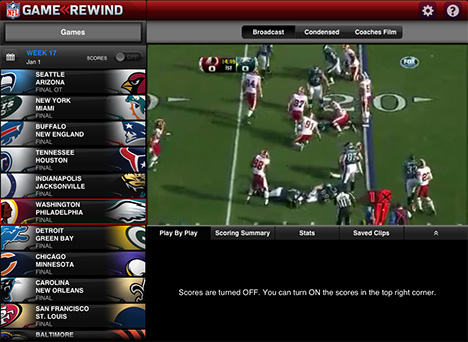 Pro Football Insider (Free)
The latest news, rumors, and inside information from Pro Football Weekly. Integrated Twitter feed of NFL players, scores, schedules, standings, transactions, and loads of video content.
Download Pro Football Insider from the App Store.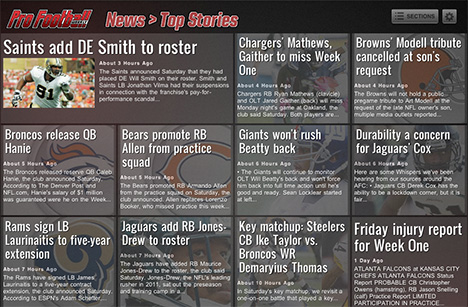 Pro Football Radio & Live Scores + Highlights (0.99)
Pro Football Radio app aggregates online radio streams of NFL games. It's not perfect as some streams get restricted by NFL franchises, and the app's UI isn't exactly a thing of beauty, but the developer is very diligent about updates and you can usually find the stream you are looking for. It also has a schedule and videos in the podcast section.
Pro Football Radio & Live Scores + Highlights – JJACR Apps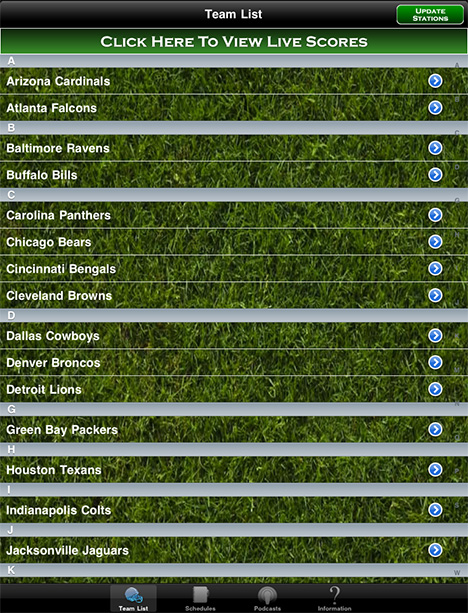 by