NFL Mobile App Brings Premium NFL Content to Verizon Subscribers with iPhone & Android
The Verizon-exclusive NFL Mobile app for iOS & Android returns for 2012 with a compete makeover. There is also a new NFL Mobile Premium tier that offers live streaming video of Sunday Night, Monday Night, Thursday Night games, along with NFL Network and NFL Red Zone Channel. 
Also this season, non-Verizon users can actually download the app (doesn't include WiFi only devices), but you won't get any of the good multimedia stuff unless you are a Verizon customer.
Premium Content
Verizon has done some things differently with the 2012 Version of this app. In the past few years they enticed subscribers to upgrade their phone by offering free access to premium video content like live video of Sunday Night, Monday Night, and Thursday Night games, NFL Red Zone, and NFL Network 24/7. Other users had to shell out $10/month for a VCast subscription to get the premium video content. I was one of the subscribers who got the premium stuff free 2 years ago. Last year subscribers with newer 4G devices got this content for free.
This year, the freebies are gone and Verizon now offers NFL Mobile Premium (an optional upgrade) for $5/ month.  I'm sure plenty of Verizon subscribers feel there are already paying enough for their service, but taken by itself $5 per month to get that level of content is a pretty good deal.
Free Stuff
With the basic NFL Mobile app you will get live streaming audio of every NFL game along with on demand video clips, scores, schedules, news, and he ability to set your favorite team. I use the live audio feature as much or more than anything over the past few years an it's is reason alone to have this app if you are a Verizon subscriber.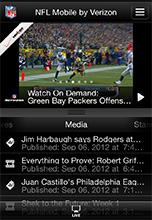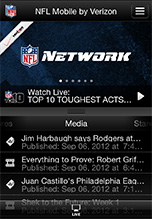 Overview
While $10/month won't sit well with a lot of returning users who previously got premium video content for free, $5 / month might just be the sweet spot for consumers. That comes to $20 for the entire NFL season, or $60 for the year. Currently the NFL Mobile app is getting more than it's fair share of negative reviews in the App store with many of the complaints revolving around the new UI. Personally I thought the layout of the last version was rather poor, so this change really isn't a negative to me.
What concerns me more is the performance. It's sluggish on my getting-long-in-the-tooth Droid and it crashes frequently. I found it much more responsive on an iPhone 4S, but the crashing issues needs to be fixed before I'd consider dropping any cash on premium content.
Download
iPhone: NFL Mobile from the App Store
Android: NFL Mobile from Google Play




by