Would you like to get the NFL Sunday Ticket but can't get DirecTV at your house? No problem. Although DirecTV holds the exclusive broadcast rights to NFL Sunday Ticket, DirecTV was required in the NFL Sunday Ticket deal with the NFL to provide an online solution for fans who can't get DirecTV.
Here's the scoop. The NFL Sunday Ticket for computer, tablet, or phone is specifically for people who can't otherwise get DirecTV service due to line of sight issues or other such reasons. I can't get DirecTV at my place, so this is right up my alley.
For the uninitiated, NFL Sunday Ticket provides live out-of-market coverage of every NFL game every Sunday. This means if the game is on CBS or Fox in your area, you won't get it on NFL Sunday Ticket. You will, however, get every other early & late Sunday afternoon game live. It does not include Sunday Night, Monday Night, or Thursday Night NFL games.
NFL Sunday Ticket for Computer, Tablet, and Phone
The price for NFL Sunday Ticket package for computer, tablet, or phone is $250. It appears as though this offering is essentially the NFL Sunday Ticket Max package without the DirecTV subscription. (Last year it went by the name of NFL Sunday Ticket To-Go) In addition to the NFL Sunday Ticket, you also get the incredibly glorious NFL Red Zone Channel which provides commercial free on-the-fly live look-ins of every NFL game every Sunday afternoon. Unfortunately, there is no payment plan option. It's one lump sum payment or nothing, which is a bummer for those who maybe a bit strapped for cash.
Access is available on PC or Mac, iPads, iPhones, and certain Android devices. Check here for the entire list of supported mobile devices.
You can find the page to sign up for NFL Sunday Ticket online here. (NOTE: The link for the the online version is directv.com/sundayticketspecial. DirecTV usually forwards this link to their main NFL Sunday Ticket page during the offseason. So, if you check that link and don't find any information about an online version, check again about a week or two before the season begins. )
If you have any questions about the product itself, call the number on that page (800-670-7288). If you call the main number to order DirecTV service, they will likely tell you that you can't get online access without subscribing to DirecTV. (At least, that's what they tried to tell me when I called to ask some questions. After being transferred to a supervisor and convincing him that I was looking at a page on the DirecTV site that told me I could get online only NFL Sunday Ticket, he reluctantly told me I needed to call the number on that page for more information.)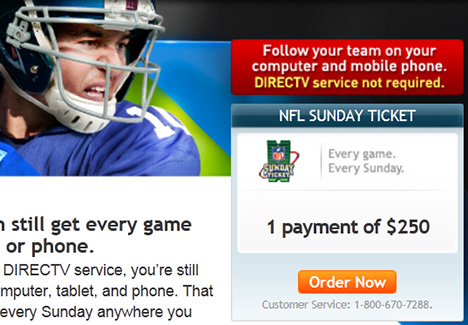 Sign up was quick an easy.  There isn't much in the way of actual validation other than a few check boxes you need to select before ordering that state that you never subscribed or can't otherwise get DirecTV service at your current address. I'm not sure if they have some sort of follow up validation or not.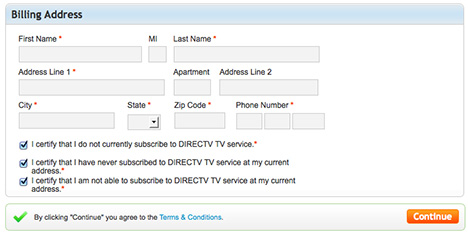 After logging in, I launched the NFL Sunday Ticket Player just to check it out. There isn't really much to see at this point as there haven't been any NFL Sunday Ticket games yet. It does appear to give you the option to watch 4 games at once, has a picture-in-picture mode, as well as a full screen and mini mode. (UPDATE: Yes, you can watch 4 games at once)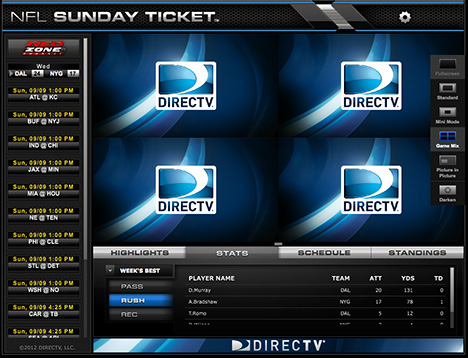 NFL Sunday Ticket for PS3
You can also order this through the PS3 for $299.95. (I have no idea why it costs more on PS3… perhaps they think people will be willing to pay more to have it easily hooked into their TVs) You'll first install the NFL Sunday Ticket app from the Playstation Store. It can be found under Media & Apps. After downloading, open the app and go through the process of ordering the subscription.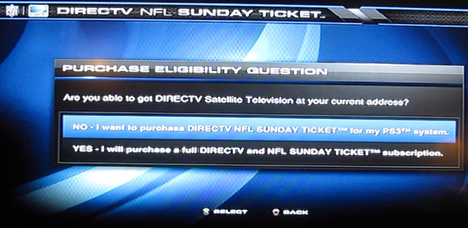 Overview
I'm even more excited than ever to watch football this Sunday. The price of the Sunday Ticket is a bit high, especially if your favorite team is in market, but I've never had the NFL Sunday Ticket before and have always wanted to give it a try. (Note: In case you're wondering, the $250 price tag equates to a per week cost of $14.70 when you divide it up between 17 weeks. )
UPDATE (9/10/2012): Here's our review of NFL Sunday Ticket online and on PS3.
Download Apps
iPad: Sunday Ticket – DIRECTV, Inc.
iPhone: NFL Sunday Ticket – DIRECTV, Inc.
Android: NFL Sunday Ticket for Android phones
Android Tablets: NFL Sunday Ticket for Android Tablets
Category: Android, iPad, iPhone, Live Sports Online, NFL