NFL Sunday Ticket Returns to PS3 for 2012
Well, they certainly made NFL football fans wait and worry, but Sony has finally announced that PS3 will have NFL Sunday Ticket available again in 2012 beginning on September 4th.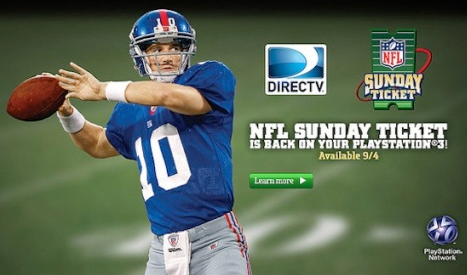 For those PS3 only buyers NFL Sunday Ticket will cost you $299.99, which is pricey by any standard. There is one other catch. It's a one time fee. Unlike last year, there is no monthly payment plan that allows fans to break the payments up into chunks.  If you are already a DirecTV / NFL Sunday Ticket subscriber, you'll get PS3 for no additional charge.
NFL Sunday Ticket app on the PS3 will be available starting September 4th via PS3 update. For additional information, check out the NFL Sunday Ticket on PS3 release statement on the Playstation blog.




by