Review: FanDraft Fantasy Football Draft Board Software
Looking for a feature rich digital draft board solution that doesn't require Internet access and allows unavailable owners to pre-rank and auto-draft their players? If so, you'll want to check out FanDraft Fantasy Football Draft Board Software. 
How Does it Work?
FanDraft is Fantasy Football Draft Board software for Mac or PC that allows you to connect your computer to a projector or TV to display a digital draft board for your Fantasy Football Draft. FanDraft does come with a $34.95 price tag for the 2012 season, but previous users can pick up the new version for about half the price ($17.50). With that fee, however, you do get plenty additional features other than the basic draft board display.
Features
Setup
As I mentioned, there are plenty of customizable (and optional) features. Both regular and auction drafts are supported (we didn't test out the auction part) and drafts can include IDPs. Leagues can be up to 32 teams and drafts of up to 50 rounds. Setup of positions isn't the most intuitive, especially when dealing with flex positions. It took me a trip to the help doc to figure out if I was doing it properly. You can also import a league logo and type some league notes that will be displayed pre-draft.
There are also some pretty cool team information customizations that you can configure. Team logos and owner images can be imported and displayed during the draft each time you make a selection. And, you can even set team specific theme music to play while you are on the clock.
Does your league see a lot of draft day trades and maneuvering? Well, all those moves and trades can be adjusted and reflected on the draft board. Keepers can also be assigned to teams ahead of time designated for a certain round of the draft.
Display preferences can be set for audio warnings at 15 seconds and when time expires. Your draft clock can be adjusted to any time length and it can also be paused as needed. The ticker at the bottom of the draft board is a really cool addition. You can have it display recent picks, all rounds, or a specific round.
Announcer
Theoretically, this could be really cool, but the robotic voice gets old quickly and as you might expect, it mispronounces alot of names. There is a built in feature to adjust the names phonetically (which is really nice), but that would take plenty of time if you were going to adjust dozens of NFL player names. The available voices are determined by your operating system and you can find some additional ones for download online. By default, only one voice was available in Windows 7 while Mac OS X had a few more options.
Player Images
You can also import player images, but due to licensing issues, FanDraft doesn't include any player images. You need to actually go find your own, resize them to about 150 x 150 pixels and import them into the software. It's way too much work for me, but if you've got the time, it is a nice feature.
Drafting
There are a couple ways to pull up the player names. You can type a last name in the draft player search box, or switch the view to Player Board view and select player cards by position or ranking. Just choose the player name, hit "Draft Player," and he's assigned to the team currently on the clock. You can edit picks after the fact, so if you choose the wrong name it isn't a big issue.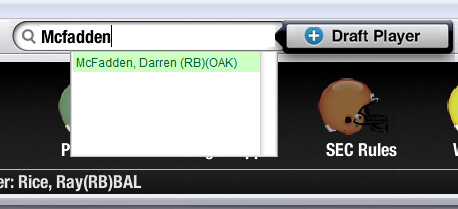 Player names are displayed on screen as digital cards just like you might see on a physical draft board. I did find it rather odd that the wide receiver and running back player cards have rather similar colors.
You have the ability to set draft time limits and include audio cues for 15 seconds remaining and when the clock runs out. You can pause the timer with the button below the clock as well as change or edit picks during the draft.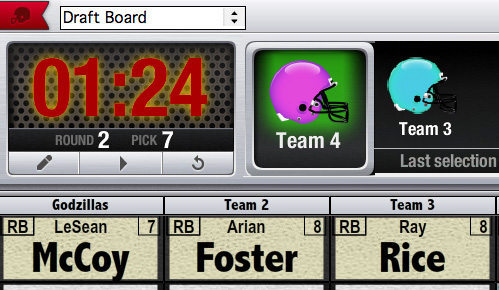 AutoDraft
This is a really great feature if you've got league members who can't make it to the live draft and can't "phone it in" for whatever reason. By using the online CheatSheet creator, you can customize your own cheat sheet, export it as an XML file and import it into FanDraft. When an Auto Pick spot comes up during the draft, an auto pick button appears under the draft player button. You can choose the auto pick or override it by typing in another name.

Online
FanDraft does not have built-in online capabilities, but for an additional $5, you can order the FanDraft Web add-on. FanDraft Web allows remote viewers to follow the draft online. However, there are no capabilities for remote drafting or interacting with the software.
Overview
FanDraft is loaded with features but does come with a bit of a learning curve. You won't want to wait until right before your draft begins to install it and then try learn to use all the features. I'd suggest downloading a trial or purchase well in advance of your draft and taking some time to learn the ins and out of the software.
I really like the ticker and the ability to add them music and custom team and owner logos. Plus, being able to have no-show owners pre-rank players for auto-draft is fantastic. It's also nice to have a feature rich software solution that doesn't require any Internet connection.
Perhaps it's obvious, but I'll mention it anyway. You'll need a way to connect your computer to a projector or TV to display the draft board to a full room. Such cables and connections are relatively common with newer computers and TVs, but if you are working with older equipment you may want to make sure it will work before ordering. If you have any questions or concerns, there are some helpful tips on the FanDraft website.
My advice? Check out the free trial and see if it fits your needs. The trial version gives you access to all the features, but it is limited to just two rounds.
If you are looking for a simple draft board solution, FanDraft is probably more than you need. If you really want to roll out the bells and whistles for your fantasy draft, and don't mind spending some time getting familiar with the software and customizing to your liking, FanDraft is certainly worth a look.
For more information, or to purchase or download a free trial of FanDraft, check out fandraft.com.




by