Fantasy Football Draft '12 App for Yahoo & ESPN Leagues
Do you have an ESPN or Yahoo online Fantasy Football draft schedule, but won't be able to be in front of a computer while it's happening? You could alsways go with an auto-draft, but with the Fantasy Football Draft '12 app for iPhone & iPad, you can participate in EPN and Yahoo online drafts with your iOS mobile device. Here's our quick and dirty review. 
The folks at Bignoggins production once again have released their app for live online drafts, but this year they've have added some pretty nice features. Even if you have no plans to use the app for your live draft, you can still get some pretty significant use from it by using it for mock drafts and pre-draft rankings. And if you also have a live draft, you can use it that draft as well.
NOTE: Login issues have been a reoccurring theme with Yahoo Fantasy apps for year, so it was no surprise when I received a login error in the app after providing my credentials. However, despite the error, the app had logged me in anyway.
Mock Drafts
This is where I found this app to be the most useful. I think mock drafts are essential draft preparation, but not every has the time to sit down bang out a bunch of mock drafts before the do it for real. This is makes it easier because you can do it remotely. You need to have a league setup in ESPN or Yahoo to be able to participate in a mock draft in the app. You'll also need to have that platform (Yahoo or ESPN) selected on the My Teams Tab before you can join a mock draft. The app supports chat features and the ability to queue up players.
(Screen shots are from the iPad version of the App)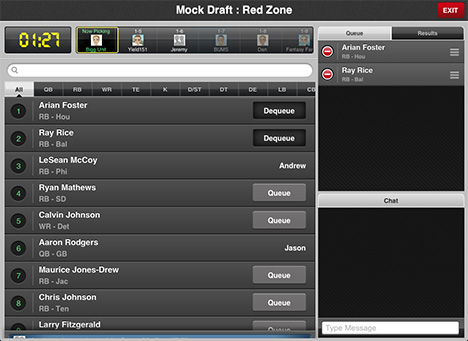 Customize Your Rankings
The Pre/Post Draft tab let you edit your pre-draft rankings and sync it up. Another great feature. If you say, get an alert that a player is injured and you want to move him down your rankings, just jump into the app and make the changes, hit "sync," and you are updated. In my tests, the online pre-draft rankings are updated immediately. Again, a great time saving way to tweak your rankings on the go.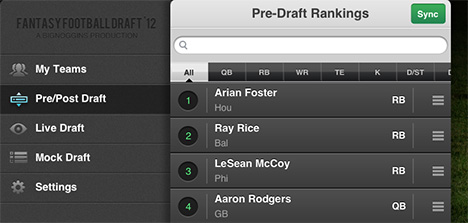 Live (in person) Drafts
You can also use this app for offline draft too, but I wouldn't purchase the app mainly for that purpose. Other apps like the NFL Fantasy Cheat Sheet and the RotoWire Fantasy Football Draft Kit are much better suited for that task.
Overview
I've done a handful of mock drafts on this app (all of the with Yahoo) and it works quite well. My only real critique is it doesn't appear that you can filter by "available" players, so you are left to visually sort through the player listings. If you keep a constantly updated queue, however, I found this to be less of an issue.
I wouldn't choose to use this app for a live draft if using the browser version is at all an option, but if you need to do a Yahoo or ESPN draft on mobile device, this app will work.
The iPad version of the app is $4.99, while the iPhone / iPod Touch version will set you back just $2.99.
Download
iPhone: Fantasy Football Draft '12 – for Yahoo/ESPN – Bignoggins Productions LLC
iPad: Fantasy Football Draft '12 HD – for Yahoo/ESPN – Bignoggins Productions LLC




by