NFL '12 iPad App Adds Video & NFL Thursday Night Game Live Look-Ins (For a Fee)
The free NFL '12 App for iPad has been updated for 2012 and now includes some nice new video features. Unfortunately, those video features aren't free.
The NFL '12 App is a free offering available to on all iOS and Android devices (as opposed to the NFL Mobile app that is only available through Verizon). The app is pretty limited in features, but if you re willing to drop some additional cash, you can get some goodies.
The app comes with news updates, scores, and stats. The in-game stats are quite good. They're very similar to what you see at NFL.com. There is also the ability to set your favorite team and get customized alerts and notifications.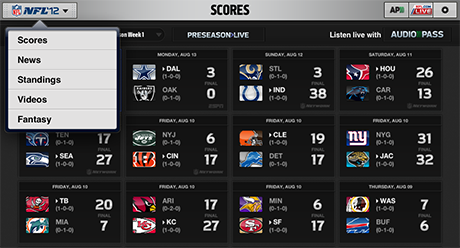 During the middle of the 2011 season, the app added the ability to port your NFL Audio Pass subscription through the iPad app and thus listen to every NFL game live (or on demand if you so choose). That feature is back once again for 2012. The price for Audio Pass is $24.99 for the season.
For a fee of $9.99 for the season, you can add some video features to the iPad:
NFL Thursday Night Game Live Look-in – Now, don't be fooled. This is not the ability to watch the entire game. It is an NFL studio show during the game with commentary, instant analysis, and live look-ins through the game. So, you get some live video of the game, but not the entire game.
NFL Fantasy Live – A daily live fantasy football show that airs at 1:00 PM ET.
Video Highlights – clips you may have missed from recent NFL games.
Overview
The app itself doesn't have much going for it without the additional subscription features. I like the app for the in-game stats because I can sit the iPad beside me and have constant sat updates as I watch. The additional features may be worth it to some, but some of the content like the NFL Thursday Night Live and Fantasy Live are available for free on your PC, so you are basically paying for the privilege to watch the content on your iPad. Note: The NFL 12 is also available for iPhone but some of the features are only on the iPad.
Download
Download NFL '12 for iPad from the App Store.




by