Review: Clicky Draft Online Fantasy Football Draft Board Software
Every live draft needs a draft board, right? Clicky Draft lets allows you to turn your big screen TV, projector, or PC monitor into a virtual fantasy football draft board. Plus, it will allow any remote drafters the ability to log in and access your draft board from anywhere with an Internet connection.

How Does it Work?
First, you'll need an Internet connection during the draft, and a way to connect to a TV or other video display device. A user registers and logs into Clicky Draft, creates a league, and sets the league size (up to 20) and number of players to draft (up to 30). Both Standard and Snake style drafts are currently available.
The user who sets up the league on ClickyDraft.com has administrator privileges and can pick players for everyone. So, if everyone in your league is sitting in the same draft room, you really only need a single account and computer connected to your TV or other video display device.
However, if any of the league managers can't be present, they can log in remotely and enter their own picks as they come around. The administrator will need to provide these users with the league name and password they created when they set up the league.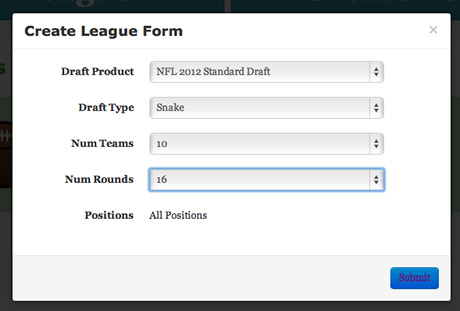 During the Draft
Clicky Draft will display a typical Fantasy Football draft board on your screen. As you begin to type a first or last name the drop down list begins to auto-fill.  When you see the desired player's name, double click, and  when you are sure of your pick hit the "Draft" button. Be sure to double check the players name. The developer says the undo feature is coming shortly in an update, as of now there is no way to fix an error.
I'd recommended starting with the last name and then move to the first if needed.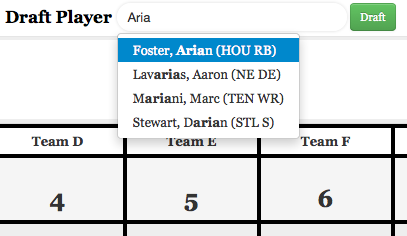 As the draft progresses, you'll see that each position is color coded making it very easy to see which positions have been selected.

Additional Features
A chat box allows for easy online communication during the draft between any remote users.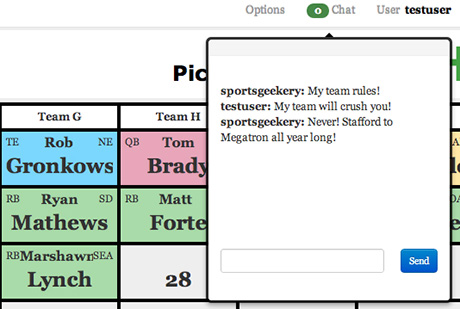 The "Options" along the top allow you to fine tune the display of the text on your screen.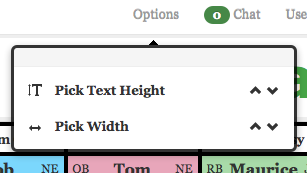 Overview
The board displays very nicely on a large screen TV. I used both a wired connection to my TV and an Apple TV to display the draft board via AirPlay.
I found Clicky Draft to be a nice solution for those leagues where one or more of the players can't make it to the live draft. The software essentially allows you to split your draft room into multiple rooms all with the same draft board. It's not yet brimming with features like a timer, ability to export draft results, and auction leagues, but if you are looking for a basic draft board solution it fits the bill. As of this post it's missing some features, like an undo function for mistakes, that the developer says will be added within the next week.
Purchase
The price is $19.99 for the 2012 season. It's available through the Wild Card round of the playoffs for those that also want to use it for your Fantasy Playoff drafts. If you are interested you can purchase Clicky Draft or find out more at ClickyDraft.com.




by