Review: NFL Fantasy Cheat Sheet 2012 for iPad
Need an iPad app to help manage your 2012 Fantasy Football Draft? Check out our review of the NFL Fantasy Cheat Sheet 2012 App . 
NOTE: This review is based totally on the iPad version of NFL Fantasy Cheat Sheet app, which is available in the App Store for $4.99. There is also an iPhone version of the same app available in the App Store for $2.99. (Download links available at the bottom of the post)
What does the NFL Fantasy Cheat Sheet App do?
The app serves as a cheat sheet that also lets you record and track the draft picks of not only your team, but every other team in the league.
Getting Started
To start off, you'll want to set up your league (or leagues) with your own custom settings. You'll find those settings by selecting the little gear icon. You can create as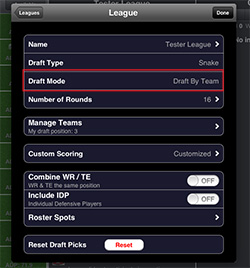 many leagues as you need, but only one can be set to active at a time. Set the scoring rules, number of teams and rounds, draft type (auction or snake), etc. The Draft Mode is one you'll want to be sure to pay attention to. If you want to track every team's draft picks, select "Draft by Team," if you are only concerned about tracking your own picks,  select "My Team / Other." With the My Team / other option, you simply assign a player to your team or "other." Scoring rules seem very well covered as they have all the basic stats, plus options for bonus points for things like 100 yard rushing games, long TDs, and stats for Individual Defensive Players (IDPs).
The actual cheat sheets are displayed along the left side of the screen (on the iPad, anyway). By default,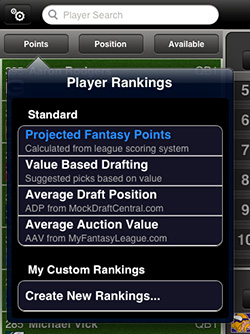 the rankings are calculated based on Projected Fantasy Points based on your league settings. They can also be displayed by "Value Based Drafting," Average Draft Position, and or Average Auction Value. You can filter layers by position and by draft status (drafted, available, keepers, wishlist, or all). So, what exactly is this Value Based Drafting rankings? The Help & User Guide says it is "calculated specifically for your league scoring system…" and they "ignore generally accepted, yet flawed drafting conventions about when certain positions should be drafted."
This is also where you create custom rankings. You do so by starting with one of the base rankings and edit the rankings by dragging and dropping players names. This can be done by position or overall ranking.
Drafting
This is where the app really shines. Selecting a player from the cheat sheet brings up player information such as stats (past 3 years and 2012 projected), depth chart, latest player news, and team schedule. The buttons that appear on the cheat sheet when you select a player vary slightly depending on the draft mode you've chosen. The buttons will allow you to draft a player to your own team, add him to the wish list, or assign him to another team (Draft by Team mode) or Other (My Team / Other mode).
The action button (box with arrow) along the bottom of the players stats and information screen allow you to set the player as a keeper, or add him to the wishlist.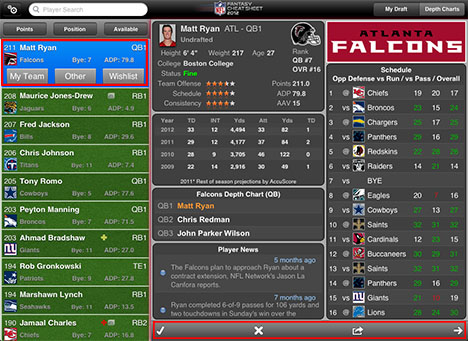 Player Search
If you can't find where a player is ranked, try the search box above the cheat sheet lists. The search feature has been improved significantly since last year. Now, when you begin to type a name, a drop-down list of results appears and allows to to scroll through and select from filtered results. For example, type "Michael" and every player named Michael appears in the list. Type "Vick," and every player with v-i-c-k in their name is displayed.
Depth Charts
Depth Charts are always a valuable tool to have with your during a draft. The Depth Chart button will display all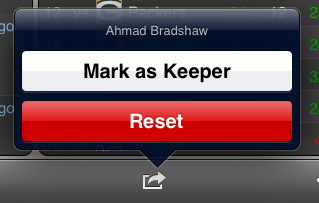 the team information such as team depth charts (of course), as well as news updates on team players and injury reports. You can pull up full player cards from this screen and even draft players directly from the depth chart.
If you inadvertently draft a player or place him on the wrong team you can fix it byselecting the icon along the bottom. Last year they used a trash can icon for this, which was really confusing. This is only slightly less confusing. Pressing anything marked "trash" or "reset" is a little nerve-wracking if you aren't sure what it does. This is also where you can designate a player as a keeper.

Overview
There aren't a whole lot of negatives about NFL Fantasy Cheat Sheet 2012. It certainly stands up against the best fantasy football apps out there and I can't image anyone dropping a few bucks on this app and being disappointed. The app was very strong last year and they made some pretty significant additions, such as Draft by Team mode & much improved search feature.  It also gets high marks for visual appeal.
One negative is, if there is a way to email/export draft results, I can't find it.
As for support, I fired off an email with a few questions and they responded in about 2 hours. They answered one of my questions, but ignored my question about being able to email draft results.
So, should you choose this app over other Fantasy Draft apps? If keeping track of other teams picks in the app is important to you, then the answer is probably yes. Otherwise, you should take a look at the Rotowire Draft Kit before deciding. I slightly prefer Rotowire because I like the simpler design / layout, the ability to email results and rankings, and at times NFL Fantasy Cheat Sheet layout feels a bit cluttered to me. That being said, I'd still be perfectly happy to use this app for my fantasy draft.
(Note: I'll also be reviewing the RotoWorld Draft app.)
NFL Fantasy Cheat Sheet 2012 has little bit more of a learning curve than Rotowire. I'd recommend spending a little time getting used to this app and maybe even run through a mock draft before you do it for real. It's better than getting stuck on the clock and not being able to find the information you are looking for.
As mentioned, this review is based purely on the iPad version. There is also an iPhone edition of the app available in the App Store.
Download
iPhone: NFL Fantasy Cheat Sheet 2012
iPad: NFL Fantasy Cheat Sheet 2012 for iPad




by