Review: Rotowire Fantasy Football Draft Kit 2012 App for iPad & iPhone
It's that time of the year when Fantasy Footballers really need to start thinking about the draft. Preseason is starting and rosters are taking shape. Rotowire's Fantasy Football Draft Kit 2012 App for iPad and iPhone can help you not only stay up to date with the latest news, but allow you to manage you team's draft from your iOS device. 
Note: This review, the images below, and all testing are from the iPad version of the app.
Setup
Before you get too far with the app, do yourself a favor and hit the "Update Data" button along the top of the screen. The data will probably be several weeks old, so you'll want to refresh it.
Next are the draft, scoring, and roster settings. You have the option of setting up snake, straight, and auction drafts.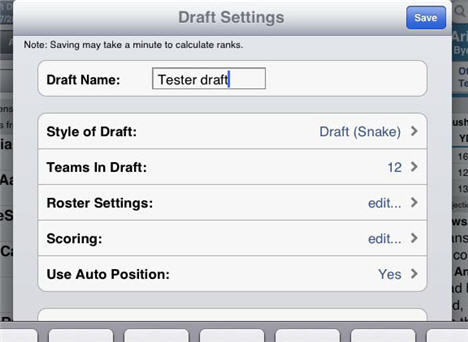 Roster settings include all the typical options plus some addition ones like Team QB, Team Kicker, a variety of flex options, and Individual Defensive Players.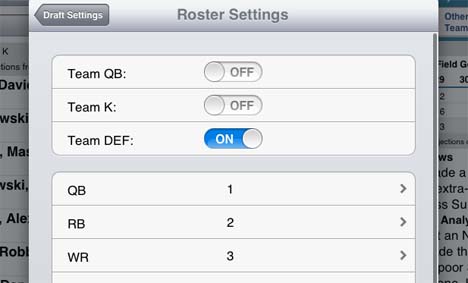 Rotowire has added a ton of additional scoring options in 2012. They had all the standard options covered last year, but this year they looked like they have covered all the bases. They've added bonus points for passing, rushing, and receiving yards, special teams scoring, and loads of IDP options. Scoring options are available based on how you configure your league, so if you don't see any team stats (or vice versa) double-check your scoring options.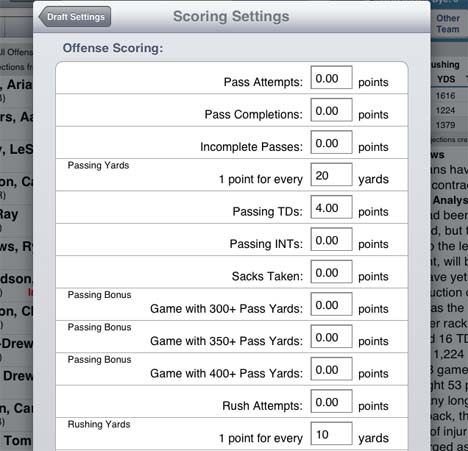 Rankings
Standard Rotowire rankings are displayed by default, but rankings are recalculated after you customize your scoring system. If you prefer your own rankings, you can adjust them manually by selecting the "Sort" button and move player names up and down the rankings by drag and drop. Ranking adjustment made on any of the position tabs are reflected in the overall rankings and vice versa.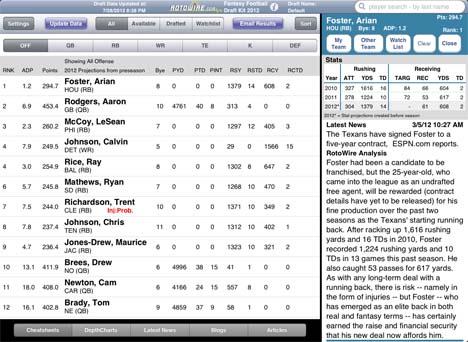 During the Draft
Cheat sheets and ranking are good, but the Rotowire Fantasy Football Draft kit does a great job of tracking your own live fantasy draft. As the draft progresses you assign each player to either "My Team" or "Other Team." Each players draft status will appear on the Cheat Sheets as a green check mark for "My Team" and a red "X" for Other Team. There is also an option to put players on the "Watch List" which I found very helpful during my live drafts. The close button closes out of the player card and reverts to you're team view.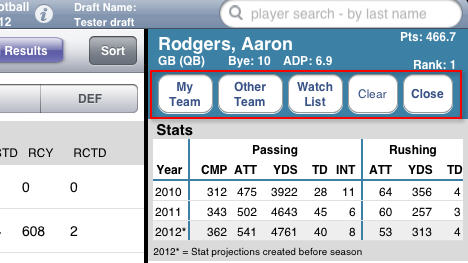 There is no way to add the other teams in your league and track exactly specifically which team picked which player. Some have suggested this would be a nice feature addition. It's something I would never use since every live draft I participate in has a draft board in the room. Thoughts?
You'll also want to consider the option to choose the position for your player automatically or manually. The automatic feature will fill the player in automatically at his primary position, while if you do it manually you can opt to place him in a flex position, etc.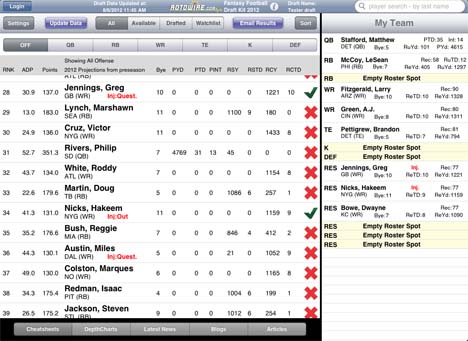 Depth Charts
Having the latest depth charts at your disposal can be critical and Rotowire has one included in the app. You can find the tab along the bottom of the screen. You can also conveniently draft or add a player from to the Watch List directly from the depth chart.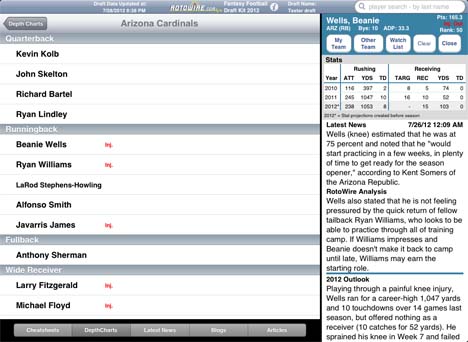 Some other app features include latest news, blogs, and articles from Rotowire. This is all good content for consuming while doing your pre-draft prep.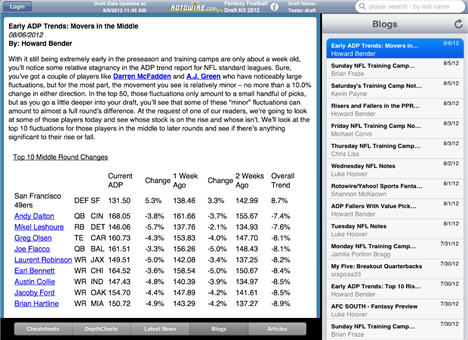 When the draft is all said and done, you can email your team or complete draft results right from the app. You could also email the rankings, which might not be a bad way to make yourself a backup copy of the rankings if you do your own customization.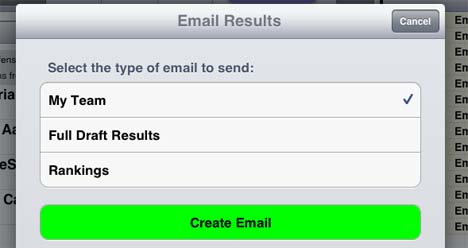 Overview
I was a big fan of Rotowire's draft kit last year. It was hands down the best of breed for Fantasy Football draft apps. This year's addition does nothing but add to the quality of the product. This is the first of fantasy draft apps that I'm checking out so far this summer, so we'll see if any of the other apps can match it.
You don't need to be connected to the Internet to use the app, so you are good to go even if your draft host doesn't have WiFi. I would suggest updating the app as close as possible to draft time to make sure you've got the latest information. If you go longer than 24 without updating, you'll get a pop-up reminder when you log in.
Both the iPad and iPhone versions are available in the App Store for $4.99.
Download
iPhone: RotoWire Fantasy Football Draft Kit 2012
iPad: RotoWire Fantasy Football Draft Kit 2012 for iPad




by