The 2012 British Open Mobile App for iPhone, iPad, and Android
Year after year the mobile apps produced by Golf Major Championships have been among the best in sports. The Open Championship 2012 apps for iPad, iPhone, and Android may actually raise an already high bar.
The Open Championship App has gone through a complete overhaul for 2012, even though the app was already a solid offering. Once again, the app will deliver up-to-date scores, latest news, hole descriptions with beautifully produced flyovers, as well as live video and Audio of the Championship.
UPDATE: I'm not getting the live hole video coverage to work on any device. Only the @TheOpenLive is working, and that video stream is only interviews and commentary. Plus, it is not in-app video but rather sends you to the browser to watch. 
iPhone & Android Version
The developers cut it a little close this year, but the app is worth the wait. The design and functionality (so far) are outstanding. The app delivers all the essentials you'd expect from a top notch app without sacrificing simplicity and ease of use.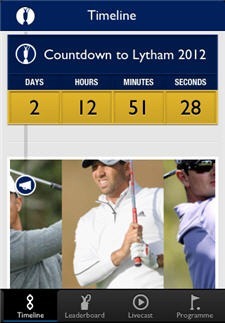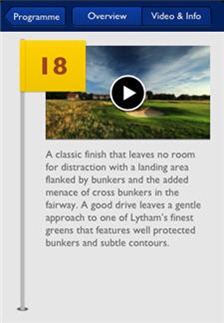 iPad Version of The Open Championship 2012 App
The Open Championship 2012 iPad app a welcome new addition for 2012. It opens to an impressive home screen with a leaderboard in the lower region and a news timeline / course layout on the right side of the screen.
UPDATE: The scoreboard is only showing the scores of players who completed their round, not real-time on the course scores. Also, as mentioned above, the live hole 9,10,11 video feed is not working for me at all. 
The upper region of the app holds the video and radio features. Navigation buttons along the top let you choose from watching live video, radio, or highlights. Live featured hole coverage (Holes 9, 10, 11) and @TheOpen live stream beginning on July 19th. There is also a direct link to the WatchESSPN app where the users who qualify to use the WatchESPN service can also watch full tournament coverage.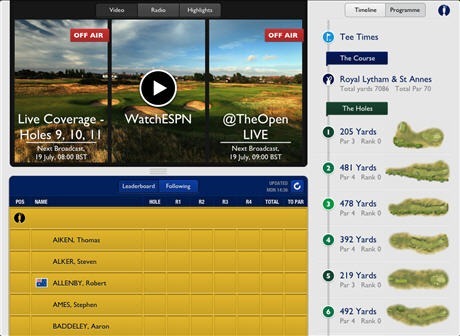 A real simple but nice feature is the moveable middle dividing bar on the home screen. Dragging the dividing bar adjusts the layout to give yourself a more screen real estate to read player bios and view statistics and scores below.
The image below also show the timeline along the left with the latest news updates, tweets, and images from Open Championship.
Overview
There also nary an ad to be seen in this app. Not that I am against ads, but the limited screen space allows for more content on the screen. The British Open apps have always bring strong and it's nice to see the developers are still pushing for improvement rather than resting on their laurels. I have every intent on follow the 2012 Open Championship heavily with these apps, so I'll post an update on the experience during the tournament.
Downloads
iPhone: Download The Open Championship 2012 – The R&A from the App Store
iPad: The Open Championship 2012 for iPad – The R&A
Android: The 2012 Open Championship App from Google Play




by