NBC Olympics Mobile App (The One That Doesn't Let You Watch Live Olympic Events)
NBC released two Olympic mobile apps for your iOS and Android devices. One of those apps lets you watch the Summer Olympics live, the other one doesn't. This is the app that doesn't….
While the NBC Olympics Live Extra app delivers little more than Live coverage, this NBC Olympics App (both are free) delivers news, videos clips, photos, athlete profiles, and considerable social media integration in the app in the form of Facebook, Twitter, and Google Plus.
Many of the features and most recent content can be accessed from the home screen. The content can be easily filtered by sport, athlete, Team USA, or by media type by using the navigation at the top. The news section, which is generally text based articles, is not on the navigation menu, but rather a little bit buried halfway down the home screen.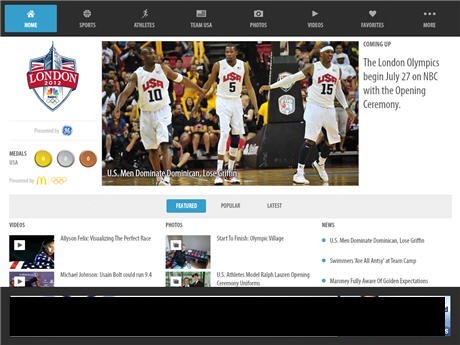 The amount of video content is nice, but we ran into a few issues. First, about 1/3 of the clips we tried just wouldn't play at all. They just displayed a dark background but would never load. When they do play, they can't be viewed in full screen mode. Yeah, really. That's pretty disappointing. There's also the issue that every video clip you choose is preceded by a pre-roll ad. Every single one. That gets very annoying very quickly when you want to sit down and watch a bunch of clips.
UPDATE: An update seems to have fixed the video playback issues and the you can now play the video in full screen by tapping on the video itself. (There is no "button" to tap.)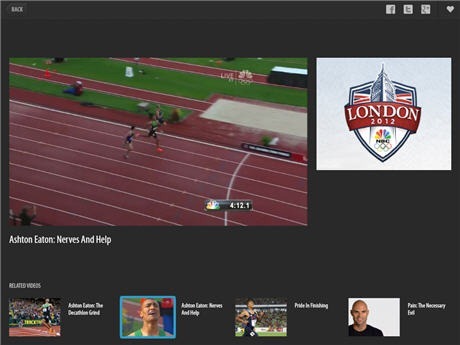 And what would an app be these days without social media integration. In addition to Facebook and Google Plus integration, there is a Twitter Tracker that highlights top trending tweets for the Olympics. You can filter by event or individual athlete.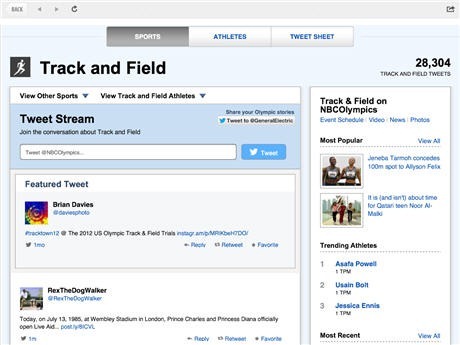 Compatibility
Apparently, this puppy only plays with certain Android devices. I couldn't get it on my Motorola Droid even though it's running the necessary Android 2.2 or higher software. As for iOS devices, it'll work on any iPad, iPhone 3GS and higher, and iPod Touch 3rd gen and higher. You also need to be running iOS 5 or later.
Overview
I find it strange that NBC felt the need to release two different apps. It clearly going to confuse users. You can already see people placing reviews of the Live Extra app under the regular NBC Olympics app. I'm not sure why they wouldn't have built one app and simply left the live video portion as an additional access tier. But, it is what it is.
Where the NBC Olympic app is strong is in visual appeal. It also seems to have a good amount of content and hopefully that amount will ramp up during the games.
On the downside, there is just too much frustration with this app. It's style over substance. The app loads slowly. Very slowly. It's taking a good 10 seconds to fully load on my iPad 2. (UPDATE: As mentioned above, an update has greatly improved video performance) Plus, the video issues are really annoying. It's bad enough that many of the videos won't load (at least as is our experience on the iPad), but showing a pre-roll ad before EVERY SINGLE VIDEO CLIP is just too much. I'm not against advertising by any means (just look around my site) but there's a point when it is just too much and it turns off the users. Banner ads don't prevent users from getting to the content, pre-roll ads do. I found myself leaving the app simply because I just didn't want to watch the next clip bad enough to sit through yet another 30 second commercial.
Download
iPhone & iPad: NBC Olympics – NBC Universal, Inc.
Android: NBC Olympics for Android from Google Play




by