NBC Olympics Live Extra App for iPad, iPhone, and Android: Watch Olympic Events Live
One of the most exciting facets of the 2012 Summer Olympics (at least for us tech geeks) is that every event will be available live and on demand on mobile devices via NBC Olympics Live Extra app.
The app is available for both iOS and Android and as we pointed out in our post on watching the Summer Olympics Live online, you will need to have a subscription with a TV provider that includes both CNBC and MSNBC before you can access any live or full on demand features. Assuming you are a subscriber that meets the criteria, you need only to log in with your TV provider credentials to get full free access. (We say free as in no additional cost… we're fully aware that it's not truly free since you have to pay for a TV subscription.)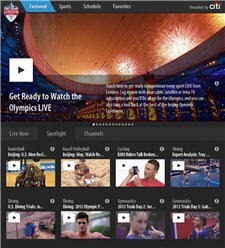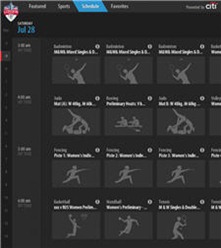 Currently the app feature on demand clips featuring some the top US athletes and reliving great moments from the 2008 Summer Olympics. The videos can be paused and there is fast-forward and rewind by scrubbing the play bar below the video.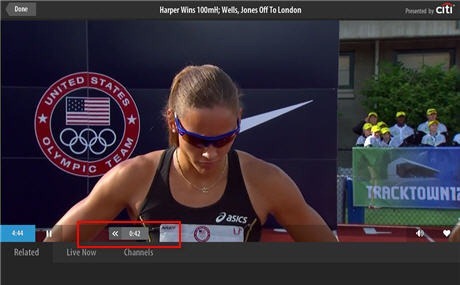 The known and promoted features of the app include:
all events live and on demand, including full event replays,
ability to watch simulcasts of each channel carrying the events
Gold Zone Streaming channel that shows every gold medal event live.
Alternate Camera Views: view multiple camera angles for sports such as gymnastics and track & field
Push Notifications
DVR controls for most events
So what about ads? Yeah, they are included. A "presented by Citi" logo is omnipresent in the top right corner, all videos include a pre-roll ad before the video clip is shown, and there is an ad banner along the bottom of the screen.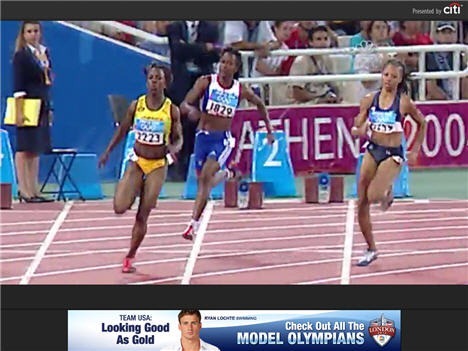 Oddly, the main screen only works in portrait mode, while the video clips will also work (thankfully) in landscape mode. It's not a huge deal, but it is a bit annoying to have to flip your device every time you return to the main screen.
Overview
We won't truly know how the app performs until the games begin later this month. All indications are that it'll be a winner for those with access. It's just a shame that those who choose not to buy into cable or satellite won't even have the opportunity to pay for mobile access. According to Gizmodo, the app also is not Air Play compatible, so you won't be able to stream it to your big screen with Apple TV. (Although, if you already have cable, I guess you might not need to stream it.) I was able to get the current content to stream from my iPad to my TV using the HDMI connector that you can pick up at an Apple Store or from Amazon. Of course, I can't confirm (yet) whether this will work for live streaming events. The NBC Olympics Live Extra app is a joint venture between NBC and Adobe.
Download
iPhone: NBC Olympics Live Extra from the App Store.
iPad: NBC Olympics Live Extra for iPad.
Android: NBC Olympics Live Extra from Google Play




by