How to Watch the 2012 Olympics Live Online and on iPad, iPhone, and Android with NBC Olympics Live Extra
Viewers in the U.S. will have be able to watch every Olympic event live online, on demand, and on a variety of mobile device in 2012 through NBC's Live Extra feature available online and through mobile apps. Before I lead you on any further, there is a major caveat.
You will need to have a subscription to a cable or satellite service that includes CNBC and MSNBC.  There is no additional charge for current subscribers to watch this online and mobile content, however, cord cutters will be left out in the cold. Unlike March Madness Online, you can't simply pay a fee to get access if you don't have CNBC and MSNBC. It's a cable/satellite subscription, or nothing. [Note: We aren't completely sure at the moment, but we think this will also include anything broadcast on good ol' over the air NBC as well.]
To sign up for Live Extra, jump over to NBCOlympics.com and follow there directions. (You can even watch a friendly video of Carson Daly telling you how to sign up.)
You need to find your service provider first. Many of the major providers are displayed prominently in a pop-up window, but if you provider isn't shown, click the "Select TV provider" dropdown near the bottom of the pop-up window. You'll then be prompted to log in using your TV provider log in credentials. Coverage will begin with the soccer early rounds on July 25th.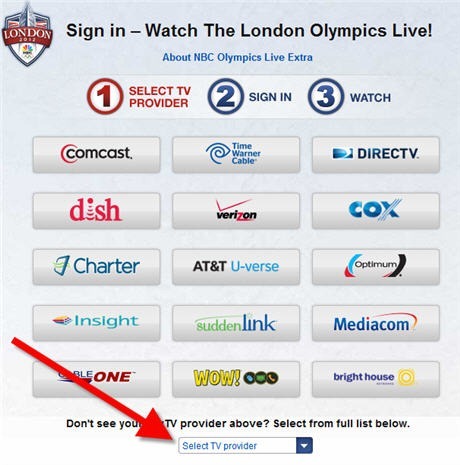 Watching online also requires Flash enabled in one of the following browsers:
Internet Explorer v8 and above
Firefox v3.6 and above
Chrome v16 and above
Safari v5 and above
What You Can Watch Online
Verified subscribers will get access to every event both live and on demand at NBCOlympics.com and via soon to be released mobile apps.
NBCOlympics.com is boasting 3500 hours of coverage. If you think that sounds like a lot, well it is. That's way more than you could watch live. As a matter of fact, to watch 3500 hours of video you would need to watch for over 145 days straight.
Some events such as Gymnastics and Track and Field, will feature multiple camera feeds. There will be a "integrated" feed that will be the same as you'll see on TV. Plus, there will be a variety of separate feeds for different events taking place at the same time (vault, javelin, races, etc.)
We fully intend to have a more thorough review of the experience once the Olympics get underway.
Mobile
NBC has now released Live Extra mobile app for both iOS and Android phones and tablets. The apps are free to download and install from the App Store or Google Play. Just as is the case with online, you'll need to sign in with your TV provider credentials to get access. (See Links below)
Even if you don't have cable or satellite, you can still watch some on demand video content available in the app.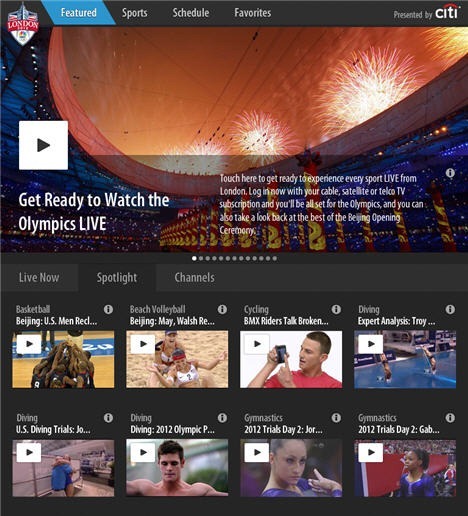 Links
To sign up for NBC Live Extra, go to NBCOlympics.com.
Download
iPhone: NBC Olympics Live Extra from the App Store.
iPad: NBC Olympics Live Extra for iPad.
Android: NBC Olympics Live Extra from Google Play




by