Test Your Olympic Trivia Knowledge with the Summer Games 2012 Trivia App for iPad or iPhone
So you think you know your Olympic trivia? Prove it one way or another with the Summer Games 2012 Trivia game for your iPhone or iPad.
The game itself is free to download and includes a "starter pack" with 10 trivia games. Additional game packs must be acquired through in-app purchases.
The trivia isn't presented in a typical single question style, but it consists of 10 multiple answer style games that require you to provide as many of the answers as possible in an allotted amount of time. For example, the first game lists all the years in which the modern Olympics were played, and requires you to type in as many answers as possible in 10 minutes. (Yes, spelling counts!) You don't need to necessarily know that Vancouver hosted the games in 2010, only that Vancouver was a host. The game will auto fill the correct year or years.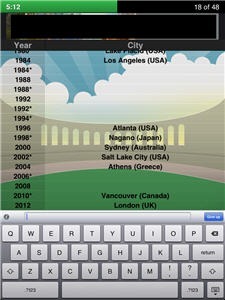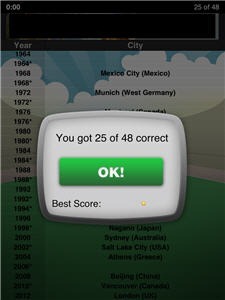 They aren't all 10 minute games. Some are shorter. For example, one game gives you a minute to provide all 5 colors that make up the Olympic rings. That one is fairly easy, especially considering there are only so many colors to choose from and none of them are oddball colors. Others, such as name the 33 London boroughs, had me  waving the white flag almost immediately.
Overview
The game itself is pretty fun and certainly worth checking out for free if you are at all into Olympic trivia. If you really dig it, you can buy additional game packs for $0.99, but if not, you'll get at least a half hour or more of fun and trivia out of the Summer Games 2012 trivia app.
Download
iPhone: Download Summer Games 2012 Trivia from the App Store
iPad: Download Summer Games 2012 Trivia for the iPad from the App Store




by