Yahoo Fantasy Football Adds New Features and Cash Prizes for 2012
It's almost time once again for fantasy football and Yahoo has announced some new features in 2012 for it's online leagues. This includes the addition of "Pro Leagues" that allow you to compete for cash prizes. Yes, cash prizes!
New Features
Keeper Tools – You'll be able to allow managers to declare keepers, assign them to your draft, and import draft picks from last season. I do play in a keeper league, so I am anxious to see how well the import tools work.
Mobile Apps – as of this post, they are still "coming soon."
Pro Leagues – Win money in Pro20 or Pro100 leagues.
Polls – These were added for baseball. I guess they have a place and are kinda fun, but frankly I think developer time should be spent on something more useful.
Topic Pinning – It's not exactly exciting, but this is an example of a simple feature that brings clear improvement to the app. Now important posts can get pinned to the top of the message board rather than
Predetermined Random Draft Order – Again, a simple feature that adds a lot of value. Now you can set your raft order before the draft date and allow owners to prepare for their spot ahead of time.  Maybe even work out some pre-draft trades!
League Availability – See if a player is available in your league in the player notes.
Pro Leagues
Yahoo added "Pro" leagues for fantasy baseball this season, so the addition of these "money leagues" for football was somewhat expected. There are two types of Pro leagues, Pro20 and Pro100. It's 20 bucks to enter the Pro20 league and $100 to enter Pro100. Winners receive $100 and $500 respectively with cash prizes for 2nd and 3rd place. All entry fees that do not go to the winners are used for administrative fees.
All Pro leagues are public leagues. When you sign up, you are randomly placed in a league. Sure, it would be nice to make your friend's league a Pro league, but this restriction is probably a really good idea because it likely prevents a lot of collusion.
Head-to-Head Only – All leagues are 10 teams, head-to-head. 14 week seasons with 2 week playoffs.
Paypal account is required
There is no limit to the amount of Pro leagues you can enter.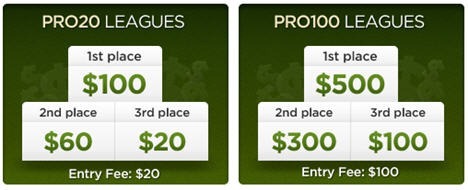 Yahoo has made a few tweaks from the Fantasy Baseball Pro versions. Most notably, football leagues are 10 team, while baseball was 12 team leagues. Also, 2nd place in Pro20 is $60 as opposed to only $50 for Pro20 in baseball.  This puts a higher percentage of cash in the players pockets, which is nice.
Mobile Apps
Yahoo is also promising "Improved Mobile Apps," but we'll have to wait to see what improvements they've made as the are yet to be released. They have made small improvements in the past, but haven't to date developed a mobile app that is anything more than a complimentary product to the full desktop browser version. Last year we got an iPad version, but it was limited to the point of being virtually useless. It was a far worse experience than just using the Safari browser version on the iPad.
We also hold out hope that the login issues that have plagued Yahoo Fantasy apps for years finally get ironed out.
Overview
I'm pretty sure I'm going to give this a whirl and try to win a little cash. When the baseball version of Yahoo Pro Leagues were released, I felt the administrative fees were a little on the high side, but with the changes in the league size for football, this is no longer the case. Only 10% of the fees are going to administrative costs. My guess is that Yahoo is expecting far more participation in the Pro football leagues and thus lower administrative overhead.
Sign up and play Yahoo Fantasy Football here.




by