NFL Adds All-22 Coaches Film and iPad / Android Tablet App to Game Rewind and Preseason Live
This is awesome. The NFL released details of it's two big digital subscription packages (Game Rewind and Preseason Live) this past week and they included some some fantastic new features for 2012.
The first new feature is access to Game Rewind and Preseason Live on iPad and Android Tablets via a yet-to-be-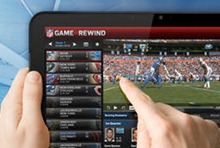 released app. Tablet access will be available at no additional cost to all subscribers.
The NFL also announced that Game Rewind will now offer a "Season Plus" package that gives fans access to the All-22 coaches film, plus access to games throughout the entire off-season (access ends July 31st of 2013). Previously, Game Rewind would give you access only through the end of the season and forced fans to buy a separate playoff package, and a separate off-season package. Now you can get year round access with coaches film for $69.99.
The All-22 as the NFL calls it, is what many of us know as coaches tape. As you might assume, it gives you an end zone view of all 22 players on the field at one time. Game Rewind had made this feature available for a very limited number of plays last season, and that limited amount will still be available for the regular season subscription. The "Season Plus" package will give you All-22 coverage for every play in 2012.
Here's the full round up of Game Rewind and Preseason Live packages:
The "Follow Your Team" Package gives you access to one team for 2012 and archived games going back to 2009 through January 2013 for $34.99.
The "Season" Package gives you access to every team for 2012 and archived games back to 2009. Subscription runs through January 2009. (Note: No exact date is given, but in the past it has been available only until the playoffs begin)
"Season Plus" gives you full access to the regular season, playoffs, Super Bowls, and all archived games back to 2009 for the entire year up until July 31, 2013. Season Plus also includes the All-22 coaches film.
Preseason Live has just one subscription option. It is available for $19.99 in 2102 and will run from the first preseason game through September 15th (It ends on the Saturday of NFL week 2).
I'm most excited about the tablet apps. NFL Game Rewind and Preseason Live have always been high quality offerings and my hope is they can deliver the same quality to tablets that they do via the Internet. The new Game Rewind and Preseason apps will be free, but of course will require you to purchase the individual packages.
Overview
The NFL sent out a survey last spring with a number of questions about Game Rewind. Among the questions were fan interest in All-22 (coaches film), watching on tablet devices, and what should be the price point for such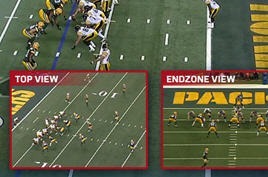 products. This naturally led me to wonder if the NFL would make some or all of these features available for this coming season. It appears from these new offerings that not only were fans interested in these new features, but the NFL actually listened to what we wanted and delivered it to us. Kudos to "the League" for that. If the NFL is going to start listening to the fans regarding their digital content, my next two requests would be to make NFL Red Zone available via the Internet / Tablet devices, and get control of the NFL Sunday Ticket and offer it online to the masses at a reasonable price.
With Game Rewind, NFL has done a nice job of offering a tiered system that gives the average fans options. If you don't care about the coaches film or watching in the offseason, you can save yourself $30 and stick with the standard. Naturally, we'll be plunging into the "Season Plus" pool just to see what it's like and to offer our review. I have to believe this product will be popular among bloggers, writers, and anyone else who covers the NFL. It could spawn a whole new cottage industry of Merril Hoge's and Ron Jaworski's breaking down game tape like they do on ESPN's NFL Matchup show.
If you aren't familiar with either of these products, you can read up on the details and finer points with our 2011 Game Rewind review and NFL Preseason Live review.
How to Get Game Rewind and NFL Preseason Live
Sign up for NFL Preseason Live
Sign up for NFL Game Rewind




by