Review: MLB.tv 2012 on LG Blu Ray Player
Are you considering purchasing an LG Internet connected TV or Blu-ray player to watch MLB.tv? Or perhaps you already own an LG Internet connected device and want to know if MLB.tv is worth purchasing. Before you take the plunge, check out my review.
Last fall I purchased the LG (Model: LHB336 1100W) 3D Blu-ray Home Theater System with Smart TV. I didn't buy it specifically for MLB.tv, but it's inclusion was certainly a nice feature. I'll keep this review about the MLB.tv experience, but for the sake of context, I will offer a brief background about this device. The LHB336 is an Internet  ready Blu-ray player that includes LG's "Smart TV." The Smart TV feature is essentially a dashboard with a dozen or so Internet apps like Netflix, Hulu Plus, Amazon Instant, Pandora, MLB.tv, NHL GameCenter, and more. The Blu-ray device also includes a basic surround sound system.
LG has other TV's and Blu-ray players with Smart TV, but not all of them have the same features. Just make sure MLB.tv (or any other features you want) are included with that particular device.
We've thoroughly reviewed MLB.tv in a previous post, so you may want to give that a look if you aren't very familiar with MLB.tv. It's also very important to note that even though MLB.tv has both a basic and Premium subscription package, only the Premium subscription will work with Internet connected devices like this one. You'll find the link to the MLB.tv sign up page in the resource section at the end of the post.
Setting up MLB.tv
To watch MLB.tv on the Blu-ray device, you'll first need to link your MLB account to the LG Blu-ray player. Select "Link Device." This generates a code that you need to enter at mlb.com/lg. This literally took only about 60 seconds to complete.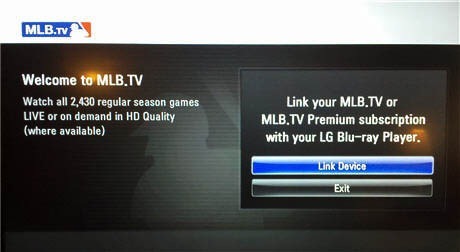 Within the MLB.tv app, there are three tabs along the top of the screen. Today's games, Calendar, and Settings. As you might expect, "Today's Games" gives you the day's schedule. Selecting "R" on the remote pulls up current inning, the current pitcher and batter, or scheduled starters in the case of a game that hasn't begun. The settings tab has an option that allows you to turn on or off the game scores on the "Today's Games" screen. This is a nice option if you are planning on watching archived games and don't want to know the score.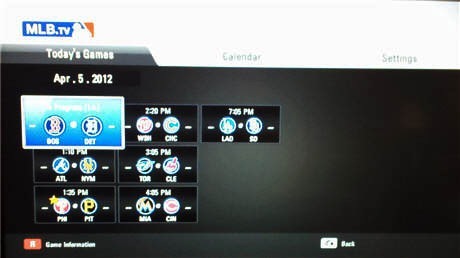 When you choose a game to watch, you are always presented with the option to join the game live or watch it from the beginning.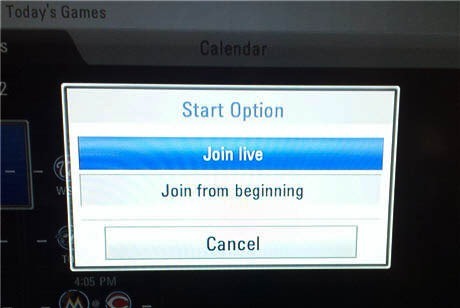 Features
The are a few nice in game features you can access with the remote. During the game you can pause, or skip forward or back in 10 second increments. To jump ahead fast press and hold the forward or backward button. You can also jump to a specific half inning. By default, the telecast and announcers are from the home team, but you can switch to the visitors with a couple clicks of the remote. Hitting the "Stop" button on the remote exits out of the game and returns you to the main menu.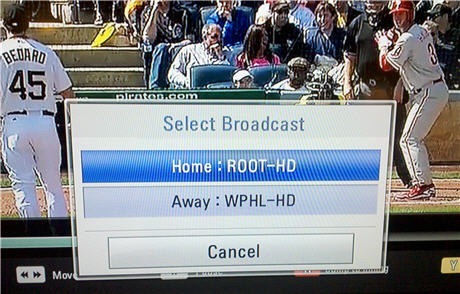 MLB.tv claims "HD Quality Video" on all devices. This, of course, depends on your Internet connection speed. During my early tests I wasn't getting what I would consider HD, but with later games were much better quality. It's not 1080 quality, but it's a nice picture even on a 55 inch screen.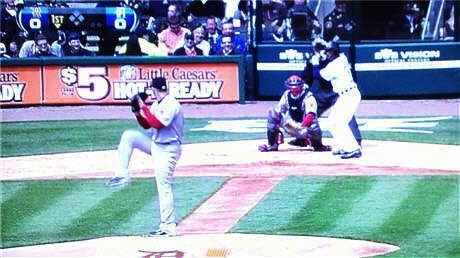 Overview
So far I'd have to say I'm pretty pleased with MLB.tv on the LG Blu-ray player. The only real issue I've experienced is that each time I start watching a new game, the picture stutters and buffers for about 30 seconds before settling down and playing steadily. After the initial brief stuttering, I've yet to experience any additional playback issues. This very well may be because my DSL speed isn't the greatest. I typically pull around 2.5 Mbps. (You can test your speed here at www.speedtest.net) It takes a few seconds to load up a game after you select it, but that is no different than the browser or app version of MLB.tv. Overall, no serious complaints. I can certainly see myself kicking back on summer evenings and watching a big game or jumping around to various games to follow my fantasy team.
As I do each time I write about MLB.tv, the most important thing you need to do before you purchase is understand the blackout rules and how they effect you. You'll want to consult the Blackout rules at MLB.com, or check out my review of MLB.tv itself.
I purchased this LG Blu-ray back in September of 2011, so there may be newer and better models out by now. LG also has the Smart TV feature with MLB.tv integrated into some of their TV's, so if you are considering a purchase, you'll want to do a little more research on which type of device best suits your needs. Overall, I've been quite pleased with my purchase.
Resources
Read more reviews of the LG (Model: LHB336 1100W) 3D Blu-ray Home Theater System with Smart TV from Amazon.com.
Check to see which teams are blacked out in your area




by